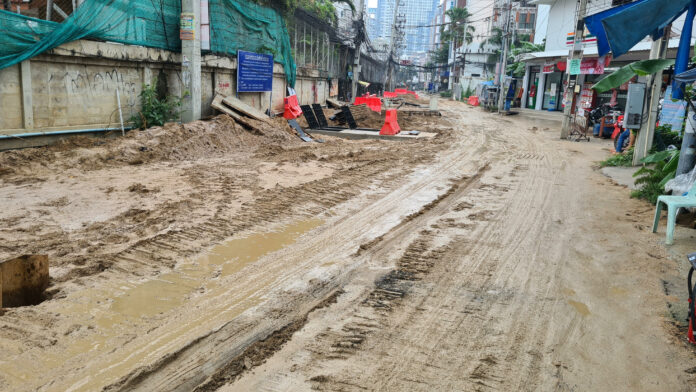 Thailand-
The following is our weekly feature in which we ask our readers a news topical question and get their insight and opinions. We then share their feedback a week later and pick a variety of diverse and interesting responses.
This week, we want to ask: 
What road in Pattaya needs the MOST urgent repair attention in your opinion and why?
Some context around this question:
We get on a daily basis concerns about various roads in Pattaya be it the need for construction, seemingly never-ending construction, or construction that needs better lighting, signs, warnings, clean-up, etc.  Road construction has seemed never-ending in Pattaya and some areas are worse than others. It's clear that areas in high-optic tourism zones like Walking Street or the Second Road near Walking Street recently also got priority and were repaired…
But there are plenty of other areas and roads that need attention, even besides major areas like Threpprasit and Second Road in Central Pattaya, and we want to compile a list from our readers on where AND why it's a priority. Here are a few we are aware of and covered recently:
Roadwork completion on Soi Buakhao pushed back to next Songkran after fire, Pattaya deputy mayor admits
Pattaya mayor eyes changing traffic plan on Sukhumvit Road in Naklua
Pattaya authorities give update on road expansion project on Beach Road
Residents of Phon Prapha Nimit 13 off of Soi Siam Country Club complain about road conditions, flooding, and construction
We note that residents of Nimit 13 recently told The Pattaya News that accidents, including fatal ones, have taken place recently due to what they call a lack of proper construction warning signs, lights, barriers, road cones, and staff.
Sidewalks on Central Pattaya Road are 80% complete, set to be fully finished by end of September, Pattaya officials say
Pattaya area residents concerned over condition of Soi Naklua 12, main road to Sanctuary of Truth
Pattaya deputy mayor reportedly disappointed by postponed completion of roadworks
We look forward to hearing from you! Tell us on our social media channels, in the comments below, or if you prefer your comment to be private mail us at Pattayanewseditor@gmail.com. We will publish the results and select a variety of diverse responses early next week, as always!