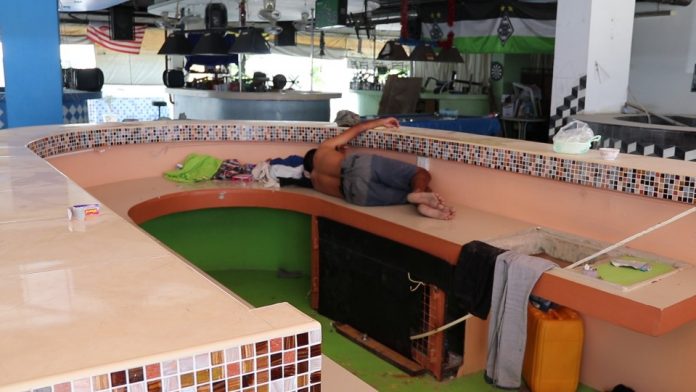 Today, September 10th, 2021, marks five months of a "two-week" closure of Pattaya's economic driving (but controversial) entertainment industry that employs tens of thousands of people directly and even more indirectly.
First, here is the original closure article from April:
Closure of entertainment venues in Pattaya begins for "two weeks", Police warn restaurants against becoming bars
In fact, if you count the five weeks in January of closure and three and a half months last year, since March of 2020 the entertainment industry in Thailand has been closed about ten months in total with little to zero financial aid as most of the sector consists of informal workers who don't collect social security, but employs millions nationally according to estimates from multiple government agencies, especially counting the informal workers. Indirectly, the closure of the sector, especially Pattaya, affects even more people due to the lack of tourism and foot traffic.
Importantly, the closure wasn't just in Pattaya but is actually an ongoing nationwide closure of bars, clubs, and entertainment venues. To be fair, however, the enforcement level of the closure differs dramatically by location, especially on some of the more remote islands. However, Pattaya in particular remains (mostly) strictly enforced and we have covered on numerous occasions police raiding, not just bars that attempted to illegally open but also parties, people drinking on the beach, alcohol at restaurants (still also against the current orders in most of the country) and more.
By the way, I am well aware that schools for in-person teaching have also been closed just as long in much of the country and also are, in Thailand, the first to close and last to open during the restrictions and regulations. This is also a major problem, arguably much bigger than the entertainment industry, and we will continue to focus on this as well, however, that is a discussion for another article. We have covered this previously here with our friends from UNICEF.
Of course, the reason for the closures was a third outbreak of Covid-19 in Thailand and the most severe, still stretching on to the current day. I am not going to get into Covid-19 into this article or argue for or against if the closure was warranted. I am not going to debate how much of an impact closing entertainment nationally has had, or if chasing people having a few beers on a beach is a valid use of law enforcement. I am not going to get into a debate on the morality of the industry either, which would be an entirely different discussion. I am also not going to get into the blame game behind if the vaccination program is to blame, leaky borders, the entertainment industry for not following rules, migrant workers, construction workers, the government, etc.
I simply wanted to use this article to take a moment to remind people of a few things about Thailand's shuttered entertainment industry, which, unlike the restaurant, hotel, massage, tourism, and airline industry does not have powerful associations and lobbies to force change at the highest level of government. Due to the controversy of the industry overall and many blaming it for the current outbreak (again, we aren't getting deep into that, you can read more about that here), it is obviously not a priority to reopen and indeed is high-risk due to Covid-19.
One important thing to remember is that although the foreign bar scene is what most foreigners know and think of, including the adult entertainment sector and escorting (which doesn't officially exist in Thailand, according to the government), the entertainment industry is much larger and more than this. The current orders stop normal, non "red light" sports bars, cocktail lounges, beach bars, hotel bars, karaoke bars, outdoor beer bars, English style pubs, etc. from being able to open for business, putting thousands of businesses not in the "red light" sector out of work. They also stop sales of alcohol in restaurants which severely hurts the profits of many restaurant owners.
Importantly, the Thai bar and nightlife economy is MUCH larger than the foreign sector and has been devastated by the closure orders in place since April. Many of these businesses thrived last year, even with closed borders, as their main demographic is domestic residents. They remain closed, unemploying tens and tens of thousands around the country.
It is also important to remember the musicians, DJ's and artists hurt by the closures and restrictions who made their living at gigs and concerts as part of the nighttime economy. The events and festivals (This includes food festivals, not just music!) sector as well have been devastated. So has theater, cabarets, shows (Including things like the KAAN show and traditional Thai shows), performances, and much more, putting thousands and thousands out of work-again with very little to no financial support.
Musicians are well-respected in Thailand and last year it was them that finally convinced the Center for Covid-19 Situation Administration to ease restrictions around the sector and may be the driving force for easing restrictions in the future again. They have submitted several petitions already requesting ways to perform with safety measures.
Unfortunately, for now, the CCSA is forbidding musicians from even performing at restaurants behind screens or with many precautions, at least in dark red zones.
Finally, the entertainment industry supports so many "unseen heroes" that the average visitor doesn't think about. From thousands of security guards, maids, bartenders, service staff, and other support staff directly to the indirect-street food vendors who rely on the traffic and staff for their income, vendors of all types from clothing, makeup, toys, etc, taxi drivers getting people around, the hotel and guest house industry, night time restaurants (with the current curfew from 9:00 P.M. to 4:00 A.M. and no nightlife, restaurants that once relied on heavy nighttime traffic for-profits have also been devastated) and of course all the businesses that rely on foot traffic from tourism and entertainment to sustain themselves.
Signs are beginning to show that things are improving, and hopefully, all these people will be able to get their jobs back in the near future and Pattaya will begin to get moving again. Even if it is just a domestic movement, like last year, that will be enough to sustain many businesses in Pattaya long enough for international tourism to return.
Covid-19 is a devastating disease that has personally hit some of my own close friends hard and I don't want people to forget that. Again, I'm not going to argue if the five months of closures were or were not worth the damage. However, as the Thai vaccination campaign moves on, with around 700,000 or so vaccinated daily on weekdays and has accelerated over the past two months, light is hopefully appearing at the end of the tunnel for the millions unemployed and out of work due to the entertainment industry being shuttered.
I get asked many, many times a day when the bars will reopen. Only one person in Thailand really has the answer to that question. (The PM). It probably isn't going to be anytime soon, to be honest. However, I am an optimist (annoyingly so, I am told) and believe the worst is behind us. (At five months straight of closure, it better be, is what many owners have told me.) It may be a few months yet, but I do believe Thailand is making progress to recover their whole economy…even the "stepchild" nightlife sector that they may not be proud of but begrudgingly admits brings in significant income for the country.
I will end this "five-month" reminder article with an editorial we did a few months ago when the CCSA asked for ideas on how to re-open the entertainment sector safely. Remember, opening the sector doesn't mean opening everything in a rush, simply allowing outside bars and beach bars to open, restaurants to sell alcohol with food, and a few other things would be a simple, small, step forward. Outdoor or open-air/non air-con venues and events have been proven worldwide to be safer during the Covid-19 pandemic and should be a first step forward.
Take care of yourselves-Adam
Opinion: The Thai Covid-19 Center wants ideas for safely opening entertainment venues-here are some
The above is an editorial opinion by Pattaya News Co-Owner Adam Judd. As full disclosure, he previously spent five years managing a bar in Pattaya for the Nightwish Group, assisted part-time prior to the recent closures, and still has many close friends and connections in the nightlife industry, although does not personally own any nightlife venues.