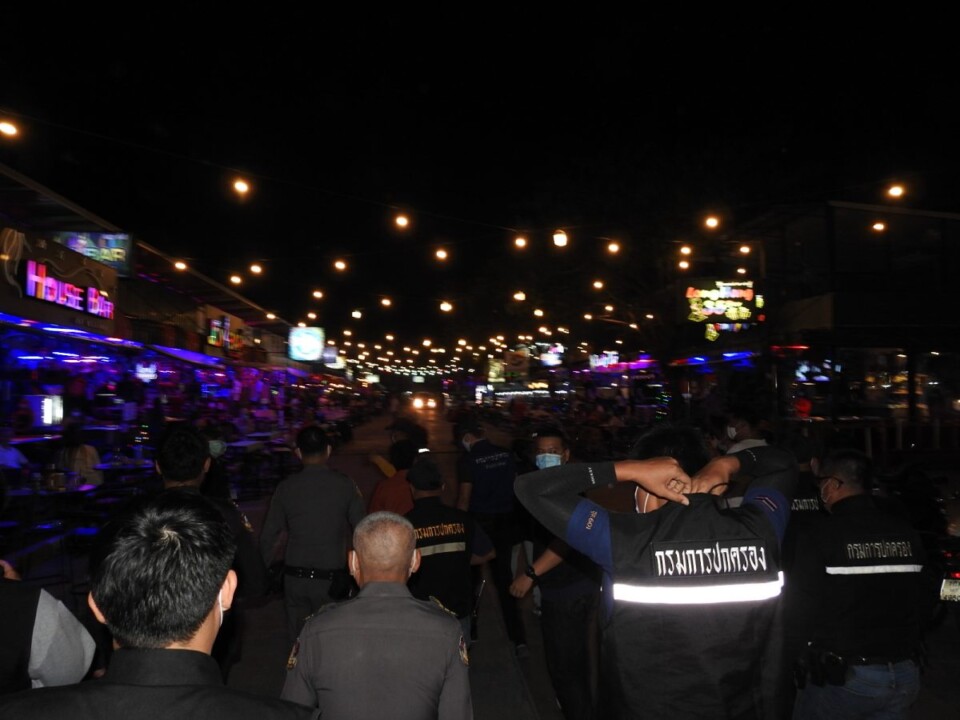 Yesterday, June 21st, 2021, the Center for Covid-19 Situation Administration, or CCSA, Thailand's "brain" for the design and implementation of Covid-19 related policies responded to multiple requests from the entertainment industry for a way out of the current crisis.
First, as a reference point, all entertainment venues, which includes bars, nightclubs, gogos, gentlemen's clubs, karaoke bars, pubs, and similar style places have been closed for about two and a half months from a national order by the CCSA to "control the spread of Covid-19." This is a hard closure, although they allowed some provinces to sell alcohol at restaurants earlier this week. Of course, enforcement is different from the rule which is part of the problem, but the actual order is they are closed.
This was after the current "wave" of Covid-19 tallied up thousands of cases a day in the country and many blame it on an original outbreak from entertainment venues in Thonglor in Bangkok.  Let's be honest, however, although these venues likely were not following Covid-19 rules and deserve to be held responsible for that, the virus didn't magically appear at these venues and was likely floating around for a while, especially due to the number of people flowing in across porous borders in the country and ongoing political problems in Myanmar and lockdowns in Malaysia and Cambodia that caused many people to flow from both countries for work.
These venues were also attended, as seen by the link in the above paragraph, by celebrities, politicians, ambassadors, musicians, influencers, and others that certainly brought even more attention to the incident quickly leading to the closure of such venues-big or small-nationwide.
They have stayed closed since.
As stated, yesterday, the CCSA seemed to throw a bone to increasing demands from owners of such venues which you can read about by clicking here.
This also comes as Phuket's much-discussed sandbox begins in just a few days but as of press time bars and entertainment venues are still ordered closed, regardless of size. The easing of allowing alcohol at restaurants and home gatherings was given earlier today, as you can see by clicking here.
However, this caused venues specifically devoted to nightlife, parties, alcohol, and entertainment to become even more upset and they protested today in Phuket, asking to be allowed to open. Many of them are completely vaccinated against Covid-19, thinking that would allow them to open faster, but it has not. You can read about that protest by clicking here.
This follows similar national protests by entertainment venue owners and Pattaya bar owners asking for help, as seen here.
So, what is the solution? Why are so many entertainment venue owners asking to open when cases are actually rising around the country and in Chonburi, home of Pattaya? You can see this by reading about today's numbers here.  Well, the answer is actually quite simple, at least to the latter question.
Business owners are getting more vocal and asking to open because they aren't being provided financial assistance. There are some minor programs here and there to be fair but for the most part, there has been little to no financial aid given to the entertainment industry as a whole and owners have been closed for about eight months out of the past fifteen by government order without much assistance. Unlike many Western countries, large-scale furlough programs, rent moratoriums, completely waived electric and water, staff getting generous unemployment, etc. is not taking place here.
Therefore, entertainment venues are asking to be allowed to open with strict Covid-19 rules OR be given financial assistance like other countries, a fair request they believe. The CCSA has stated they believe people under the influence of alcohol cannot socially distance themselves but has asked for suggestions on how to open. Alright, let's give a few as well as some overall thoughts.
  1. Opening restaurants for alcohol but not letting small bars open doesn't work. We clearly saw this during prior attempts in Pattaya, likely why they banned it from restaurants until this week in some provinces.
Why doesn't it work? Despite the honest attempts by most business owners to control the situation in restaurants, it leads to people treating the venue like a bar. They will come in and order a plate of chips and ten beers. There are no clear guidelines on what is acceptable so police raid here and there. Some bars decide they are restaurants and start selling chicken fingers to try to skirt the rules. Police go raiding and unfortunately, regular restaurants also get hit. Tempers flare between bar owners and restaurant owners and people call police on each other. Etc, Etc.
Now, this might work in rural provinces or places without many bars, but in Pattaya, with thousands of bars and restaurants, it doesn't work well. Many of these bars are in a "middle ground" area and sell liquor and food which makes the situation even harder for police to sort out. Then you have restaurants that have live music, which also caused problems. It's not a simple black or white issue. What license the venue has helps but isn't perfect. Knowing this, let us go to two.
2.  People are going to gather already. Why not provide them a place with stricter rules and health measures?
If there is one thing we see approaching three months of bar closures for the second year in a row, people are sick of this. Most understand the health threat, most understand vaccines are likely the answer, but many have let their guard down.  You can see this with dozens of people at coffee shops, beaches, shopping malls, markets, house parties, and other places.  The vast majority of Covid-19 cases are now coming from densely packed communities at factories, markets, worker camps, construction sites, and other locations. This is not to say there is no real risk elsewhere, of course, there is, but a properly run venue or certain rules are certainly fewer risks than many of the places where Covid-19 is currently breaking out.
This brings us to 3.
3. Start with letting outdoor beer bars, beach clubs, restaurants, open-air venues, places with outdoor seating open
This is how many other countries began and although I am far from a scientist many experts agree this is substantially less risky. This will not please everyone, especially gigantic nightclubs, but is a step towards allowing them to open and will calm down people who are looking for illegal parties or going to house parties with zero rules.  And, let's be honest, there are places out there already open and available "pushing" the rules a bit and after three months with no financial aid that likely surprises nobody.
Allow outdoor places to open.  Set capacity limits. Make it table service only. Whatever it needs to be, this is a start like foot massages only at massage parlors. Yes, some places won't follow the rules, but many will and it is a starting point. This will also allow steps towards the next point.
4.  Set capacity limits, get the staff of entertainment venues vaccinated, utilize some of the rules used during prior phases, test, and track
In Pattaya, as we stated earlier today, tourist and entertainment venues are practically begging for vaccines. I am not going to get into the positives or negatives of vaccines but most business owners believe this is the only way they will be allowed to open their business, thus doing everything they can to get them and their staff vaccinated as quickly as possible. If this is the case, get them the vaccines and allow them to open their business. Utilize law enforcement in a positive manner to patrol and reinforce good behaviors, teach the requirements, etc. Using them to catch two people drinking a beer on the corner serves nobody.
In short, we should consider separating venues based on size, being indoor/outdoor, and the type of venue. Contrary to belief, not every entertainment venue is part of the red-light district and the vast majority are actually very small Thai-owned bars and venues that are not allowed to open, even if they can only sit six people. Many other countries recognized the big difference between bars/pubs and massive nightclubs or adult entertainment venues. Thailand needs to do so as well, there are thousands of business owners who run small open-air bars and venues that are likely perfectly safe that should be able to open now.
The vast majority of the entertainment industry in Thailand is owned by Thais for Thais which is an important thing to remember. This is also basically the entire concert and nightlife industry including for well-respected Thai artists like Carabao and Bodyslam who rely on this industry for their income.
As for larger venues, they should be given options as well, such as capacity limits, table service, and separating groups which can be done but takes some work.
And, in the end, if this can't work out and the powers that be decide entertainment venues, which drive a significant amount of money and tourism dollars regardless if people want to admit it or not, cannot open…at the very least they should be provided liveable incomes and financial aid to get through this crisis so that the overall tourism infrastructure doesn't collapse before tourists return as many other countries did.
Adam Judd
June 22nd, 2021