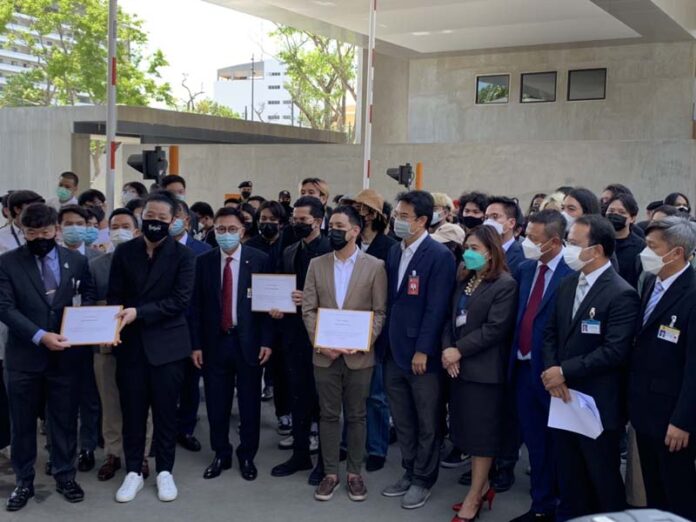 Bangkok, Thailand-
  Dozens of prominent owners, staff, musicians, entertainment associations, and others submitted a major petition to the Thai government today asking for further support from the government in the wake of Covid-19 closures that have seen their places of work closed for almost three months straight with what they claim is little to no financial aid and no idea when they can go back to work.
The rally was held around 10:00 A.M. this morning, July 1st, at the house of representatives in Bangkok.
The rally was led by Mr. Nontadet Buranasitthiporn from The Federation of Night Business Professionals and Entertainment Businesses of Thailand. It was also attended by major Thai musicians and bands such as Slot Machine, Tattoo Color, and Cocktail. Additionally,  Mr. Thannithi Paphatsurichot from the Music Club of Thailand, representing tens of thousands of musicians who make their living at entertainment establishments, also co-led the rally.
Mr. Thannithi stated at the rally that the sector had put hundreds of thousands of people out of work for the past three months, and eight months in total in just over a year.  He claimed the industry had seen little support from the government and that the entertainment sector was a legitimate occupation with many beloved musicians and artists that had millions of fans in the country.
Mr. Nontadet stated that after the recent suspected suicide of a prominent Thai musician that the issue about the ongoing closures of the sector was becoming a bigger issue than ever. We covered that story and you can read about that here. He also stated the industry had seen very little support from the government. He admitted a large portion of the industry was "informal" and did not have social security, but they were still Thai citizens and residents who spent money, paid taxes on many things, and contributed to the economy of the country and deserved to be either given support or allowed to open their business. It was also pointed out that many construction workers were also informal and did not pay taxes but were getting immediate support from the government after the closure of their camps in Bangkok and some other areas. He stressed that they didn't really want handouts but they wanted to be able to get back to work and earn a living.
The rally, which presented the petition to prominent MP's, are asking for the following:
1. Unlock the entertainment sector, with rules and Covid-19 controls, by August 1st, especially in parts of the country with little to no cases of Covid-19 or areas trying to reopen to tourism like Phuket where a significant amount of the population is vaccinated.
2.  Allow alcoholic beverages to be sold in the shop in more provinces and areas
3.  Partner with the entertainment sector on clear rules and disease control measures for venues that are allowed to open set standards that allow people to work for a living while maintaining health rules. Consider allowing entertainment/singing in restaurants with rules.
4.  Consider allocating Covid-19 vaccines to staff who work in the sector which is essential to tourism and whose staff are high-risk. (This has already been done in some places, like Phuket, but those venues are still not allowed to open.)
5.  Provide options for loans and debt moratoriums or freezes like rent, utilities, licenses, taxes, and other items for those businesses in the entertainment sector that have been shuttered.
6.  Provide opportunities for those in the entertainment industry to interact with decision-makers like the CCSA and prominent medical doctors and come up with a plan that doesn't involve keeping the industry shuttered with no end in sight.
7.  Open communication channels and embrace dialogue between those with opposing views, overcome objections and concerns to build a path forward.
The petition was taken by multiple MP's who stated they will pass it on to relevant government agencies and open channels of discussion. Mr. Pita Limcharoenrat, speaking on behalf of the House of Representatives group, said that all leaders understood that the nightlife and entertainment sector had been closed the longest and due to many being informal were struggling more than most. He agreed that a solution needed to be found but did not guarantee that the industry would be able to reopen by August first.
TPN media notes today marks the anniversary of last year when after a similar almost four-month closure of the sector to Covid-19 the government allowed it to reopen. Prominent musicians protesting and demanding assistance, like today, drove the opening last year but it is unclear if that will happen this year. Although Covid-19 infections remain high in places like Bangkok, some parts of the country have had little to no cases in some time or have high vaccination levels like Phuket.