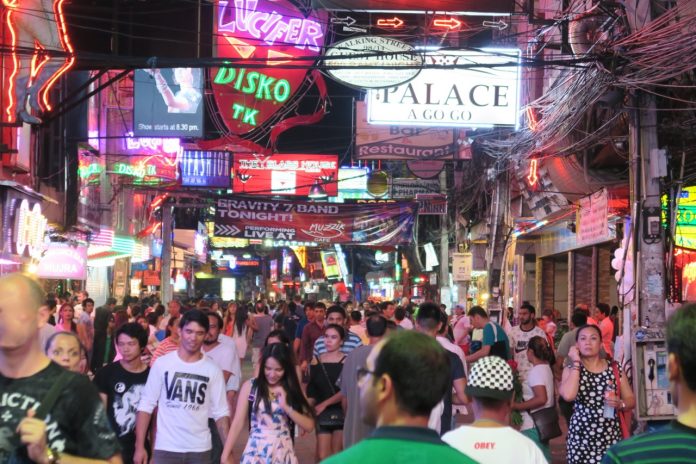 Pattaya-
Today marks two months, March 18th, 2020, when the bars and nightlife in Pattaya (and all over Thailand, and most of the world) went dark, originally for two weeks, to help prevent the potential spread of the Covid-19 Coronavirus. This was shortly followed by nearly everything except for essential services.
Here is where we broke the news when it first happened.
Two months later, the bar, hospitality, most large tourist attractions, Koh Larn and the other islands and massive nightlife industry remain closed, which accounts for almost 80% of Pattaya's overall revenue, leaving the city almost a ghost town. Pattaya is known worldwide as a tourism hot spot, attracting millions of visitors a year and along with Phuket have likely been hit harder than any other area in the country being so dependent on tourism, hospitality and nightlife.
It is worth noting that a significant part of the tourism in Pattaya, which surprises most foreigners, is domestic, including a large domestic Thai nightlife and bar industry which attracts Thai's from across the country, with clubs like Bone and Differ leading the way. Hotel's remain closed in Pattaya legally until at least the end of the month. Many tourist attractions, like Nong Nooch Gardens, surrounding islands, Cartoon and Ramayana Water Park and the open zoo are also very popular with domestic Thai tourists. Despite a ban on international tourists at this time, many of these venues would still be able to attract domestic customers-when they are reopened.
Thailand has emerged over the past few months, based on the official numbers given, as a winner in terms of the Coronavirus, recording numbers only in the single digits for the past several weeks, none in the Pattaya area.
Pattaya and the Chonburi area, the province containing Pattaya, have not had a single case in weeks, Pattaya City in well over a month. Not a single patient remains under treatment for the disease in the entire Chonburi area. (At least locally spread. The Pattaya News notes that a state quarantine facility for those Thai nationals who have been directly repatriated from overseas is in Chonburi. These individuals go directly from the airport to the facility and have no interaction with the general public.)
Regardless of these statistics, the hospitality and nightlife industry remain closed as officials and leaders, including Pattaya's former Mayor, discuss exactly how to safely re-open the industry and get people back to work.
There have been some bright spots-Malls re-opened this week and restaurants have been open for the past two weeks throughout the city, although they are not legally allowed to sell alcohol and are taking the re-opening and rules with caution at the direction of the Thai Government. Most stores, dentists, retail stores, clothing shops, etc. can now legally open. However, entertainment, with a few minor exceptions like Golf and Fishing parks, remain closed out of precaution. Massage shops, closed the same day as bars, remain closed country wide, another major employer of the country.
The CCSA has said that entertainment venues and tourist attractions are the riskiest venues to re-open, but like China, Taiwan, Cambodia, Vietnam and other countries have done, they will slowly get every business back to work with proper precautions. The CCSA, like the rest of the world, was disturbed to hear when South Korea believed they had a second outbreak caused by a single man in a bar in Seoul several weeks ago that led to another 150 plus confirmed cases, but as of today only two cases were additionally found after tens of thousands of cases were traced and tested, showing that proper tracing and tracking does work.
Meanwhile, business owners in Pattaya have also been meeting to deliver plans and ideas to the local and regional leaders that will go to the team in Bangkok, including the current former Mayor of Pattaya, to help gather ideas on how to get things open.
The next phase, as long as cases of the Covid-19 Coronavirus stay under control in the country, which is likely to happen with all borders and international foreign visitors banned, is set for two weeks, around June first. The CCSA states they will be looking at the overall results of malls over the next week before coming together to make decisions on what the third phase will bring. A fourth phase, which is supposed to be the final phase, according to the CCSA, is set for mid June. However, as recently as last week the CCSA advised based on the situation some businesses "could" be pushed back further, specifically naming massive concerts, stadium sports with huge crowds or events.
Nobody can answer for sure when the lights will come back on in Pattaya, but as food lines continue to stretch into the thousands locally, it is clear that some further decisions will have to be made soon. Although it will be some time for international tourism to return and the CAAT has banned all international flights through June, domestic tourism and local residents are a larger chunk of the industry then many expect and many tourist attraction owners only want the option to open and start the long path to recovery.
The Pattaya News will keep local readers updated on the future phases and any announcements, as always.
At this stage, with two months behind us and many businesses, like malls and restaurants and department stores, closed but now re-opened, the longest period of closure is "likely" behind us, but not guaranteed.
We will leave you with this article, from last month, looking at what some clubs in America are looking to do to possibly re-open:
Adult Entertainment and Nightlife venues discuss ways to open business in America-could Pattaya see similar restrictions?