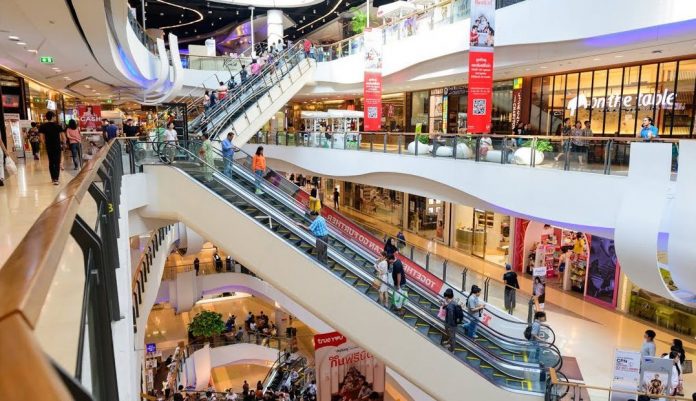 Thailand-
Thailand officially started the second round of a currently planned four phase re-opening process designed to loosen and ease strict rules and restrictions meant to help stop the potential spread of the Covid-19 Coronavirus. As cases have dropped to the low single digits for weeks, with many of those being imported cases from repatriated Thai's overseas, the plan to re-open businesses has moved forward. However, as evidenced by online chatter on social media not everyone is pleased with the re-opening.
The Center for Covid-19 Situation Administration, or CCSA, in Bangkok has stated that overall they were pleased with the first day of results in terms of re-opening malls around the country.
Dr. Taweesin Visanuyothin, the spokesman for the CCSA, told the Associated Press at a daily press conference in Bangkok that he and the CCSA team were, as a whole, satisfied with the results of the first day country wide and the efforts malls were taking to address health and safety. He admitted that there some hiccups, specifically addressing to pictures that went viral of hundreds of people waiting to get into stores in closely packed clusters at some malls, but that overall the processes were smooth and they had learned a lot.
Several complaints arose on social media, including long queues to enter stores due to having scan QR codes not just to get into the mall and not just to enter a store but also to leave a store, which was causing additional lines to do so. Some patrons also complained about the need for having to go through health checks at every individual store versus the mall as a whole, complaining that it bogged down the process and made additional lines and hold ups to have to have your temperature checked at every single venue you entered, instead of just at the mall overall.
We wrote yesterday about what an experience at a mall was like, you can read that here.
However, by far the largest complaint on social media was aimed at mall restaurants.
A large amount of restaurants were restricting diners to one per table, or at most two, which separated families, couples, parents and children, etc. from eating together. Photos of four members of the same family forced to sit at four different tables were common on social media. Complaints also came in over partitions blocking access between two diners that live together or couples forced to sit diagonally from each other versus across from each other and to be set apart by partitions. Online comments asked why many restaurants outside, who had these same complaints when they opened two weeks ago and later relaxed the standards, could sit a family together but you could not in the mall.
Restaurant staff and management, for the most part, claimed the rules were coming from upper Mall management and not the individual restaurants and that they did not want to separate families and couples but in some cases the strict rules at opening required them doing so.
The CCSA stated at the press conference today that they knew the rules were strict and understood the public being upset and that if things went well in this "teething phase" the rules would be loosened and adjusted over the next few weeks. Dr. Taweesin said the CCSA and Government had heard the feedback "loud and clear" and would be working on a plan to make sure things were both safe and realistic.
Meanwhile, many comments were seen on social media that stated that if they were unable to sit with their loved ones or friends who they spent all their time with, they would be eating at other establishments outside that allowed them to do so versus be forced to sit alone or shout across a room. Suggestions were made to block off certain booths or separate tables further apart, like many restaurants have done outside of malls, but not ban parties and groups who come in together from sitting together, but rather prevent them from sitting too close to strangers.