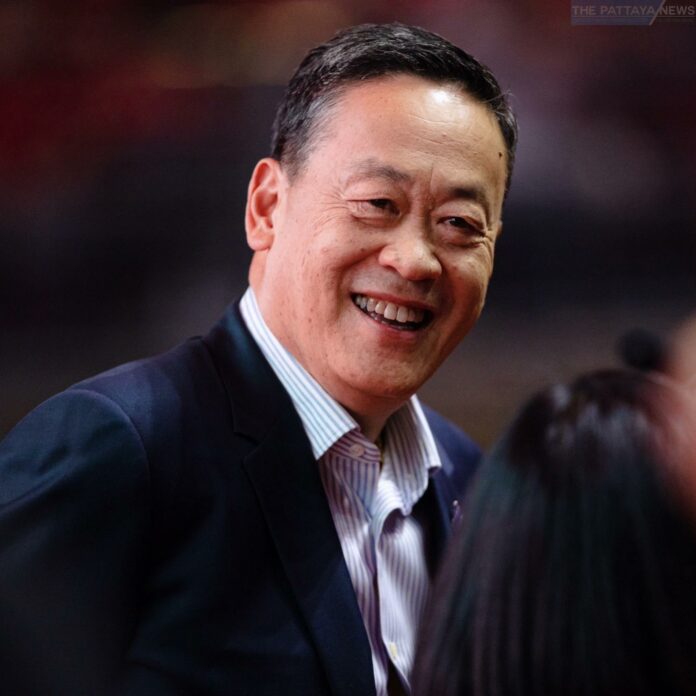 Bangkok, Thailand-
With events earlier this week firmly removing charismatic and popular Prime Minister candidate Pita Limjaroenrat from the Move Forward Party from the running as the next Thai PM, we wanted to profile the most likely candidate to be put forward for a vote between the joint Thai Parliament.
That individual is almost certain to be Srettha Thavisin, a successful and well-regarded Thai businessman from the Pheu Thai party. He is also, however, a relative newcomer to politics. Move Forward Party confirmed earlier this week that Pheu Thai would be taking the lead in forming a new Thai government after the bid from Pita failed.
We know many of our readers have heard of the other possible PM candidates like Pita, Anutin, and Prawit for some time but Srettha is unfamiliar to many of our readers at TPN Media so here is a profile on him and a bit about his views.
Srettha Thavisin is a Thai politician and real estate developer who is one of the prime ministerial candidates of the Pheu Thai Party in the 2023 Thai general election. He was born on the 15th of February, 1963 in Bangkok, Thailand, and has a bachelor's degree in civil engineering from Chulalongkorn University and a Masters of Business Administration from Claremont Graduate University, United States.
Srettha co-founded Sansiri in 1988, which became one of the largest real estate developers in Thailand, and served as its chief executive and president until he resigned in April of 2023 to pursue his political career. He is a known confidant of both Thaksin Shinawatra and Yingluck Shinawatra, former and now exiled prime ministers of Thailand, and is seen as a pro-democracy and pro-reform candidate. He is married to Pakpilai Thavisin, a specialist in anti-aging medicine, with whom he has three children. He is also a collector of classic travel trunks, such as those made by Louis Vuitton.
Under Thavisin's leadership, Sansiri expanded domestically and internationally, establishing itself as a renowned name in the real estate market. Thavisin went on to also establish MQDC (Magnolia Quality Development Corporation), a subsidiary of the Sansiri Group. MQDC is dedicated to developing sustainable properties that focus on the well-being and happiness of residents while ensuring minimal impact on the environment.
Thavisin's influence is not limited to business ventures; he also actively contributed to the betterment of society. As a philanthropist, he established the Sansiri Foundation, which supports educational initiatives and the well-being of underprivileged children and communities. Through his foundation, Thavisin strived to make a positive impact on society, emphasizing the importance of education, health, and social responsibility.
Some of the political views of Srettha Thavisin are:
He wants to settle the political issues that have divided Thailand for decades, such as the role of the monarchy, the military, and the Shinawatra family. He believes that dialogue and compromise are needed to achieve national reconciliation and stability. He currently, however, is against amending the Lese Majeste law although his views on this appear to have changed. With Pita's rejection as PM despite winning the popular vote of the people being primarily due to his support of amending the Lese Majeste laws this is a major issue.
He overall supports the pro-democracy and pro-reform movement that have been protesting against the military-backed government and demanding constitutional changes. However, he is more moderate than Pita and does not support the most extreme protesters that have called for monarchy reform, with his focus being on the economy and economic reform to build better equality.
He advocates for a more decentralized and participatory system of governance, where local communities have more autonomy and power to manage their own affairs. He also wants to promote social welfare and environmental protection.
He is a confidant of both Thaksin Shinawatra and Yingluck Shinawatra, former prime ministers of Thailand who were ousted by coups and live in exile. He shares their vision of a more inclusive and progressive Thailand that respects human rights and democracy.
Srettha's political journey began when he joined the Pheu Thai Party in October 2022. Srettha was also appointed as the party's deputy leader and economic chief.
In April 2023, Srettha announced his resignation from Sansiri, amid speculation that he would be officially named as one of the prime ministerial candidates of the Pheu Thai Party. He said that he wanted to dedicate his full time and energy to serving the country and the people. He also said that he had no conflict of interest with his former business, and that he would not use his wealth or influence to gain an unfair advantage in politics.
Srettha eventually became one of the three prime ministerial candidates of the Pheu Thai Party, alongside Thaksin's youngest daughter, Paetongtarn Shinawatra, and former Attorney General Chaikasem Nitisiri. He ran under the slogan "Srettha for Thailand", promising to bring economic recovery, social justice, and national reconciliation to the country. He also pledged to respect the constitution and the monarchy, and to work with all parties for the common good.
Srettha Thavisin is a man who has achieved success in both business and politics, and who has a vision of a more inclusive and progressive Thailand that respects human rights and democracy. He is also a man who faces many challenges and uncertainties, as he tries to navigate the complex and polarized political landscape of Thailand. He is a man who could be Thailand's next prime minister, or who could be denied the opportunity by the military-backed Senate establishment. He is a man who has a lot at stake, and who has a lot to offer to his country.