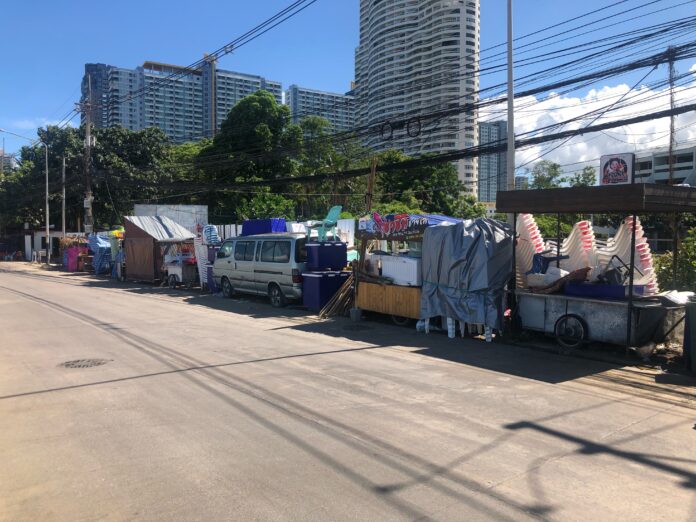 Na Jomtien, Thailand-
The following is a resident's opinion, entirely his own, on the ongoing situation with vendor encroachment of the new extended Na Jomtien Beach. We have withheld his name, but he is self-described as a condo owner in the area who chose the location due to it being a quiet, reserved, high-end area and has now seen his formerly quiet neighborhood become an overcrowded tourist attraction, mostly to domestic Thais. He has filed multiple complaints with relevant municipality departments and applauds the Na Jomtien municipality ordering a legal order to end and ban all vendor encroachment on the beach announced yesterday as seen here. However, there are concerns about the enforcement of the ban. His text is below. Want to submit a guest opinion? E-mail us at pattayanewseditor@gmail.com
Hi TPN,
The Pattaya mayor has absolutely no jurisdiction in this area. The area in question is Na Jomtien Beach which is in Amphur Sattahip and governed by the Mayor of Najomtien who is the signatory to that letter that now legally bans vendor encroachment. (posted here). We (residents of the Na Jomtien Beach area) pay business and property tax to the Najomtien and Sattahip municipalities. This is a high-end residential neighborhood and I didn't pay 25 million baht to buy my condo here to end up in what looks and feels like Soi Buakow now in terms of crowds and traffic.
-=-=-=-=-=-=-=-=-=-=-
Prior to the new beach and during Covid-19 this was a quiet area overall in terms of traffic and visitors and appealing to people who wanted to be in a reserved, safe, laid-back area. Residents were never consulted on turning the area into a tourist attraction/night market.
-=-=-=–=-=-=-=-=–==
Actually, this illegal street market popped up right across the defined border of Najomtien beach specifically because it is not allowed in Pattaya and the vendors know this fact. It is not a coincidence that they do not operate further down by Chayapreuk where the road is much wider and could accommodate cars parked on both sides of the road.
-=-=-=-=-=-=-=-=-=-==-=-
This whole thing started when a restaurant next to the U Jomtien hotel started encroaching on the public land by putting hay bales on the beach in front of the restaurant and seating customers there. In the past, that same restaurant used to put tables on the sidewalk before the road was widened and after many complaints from local residents the Tessaban finally enforced the law and stopped it but this time the restaurant saw that nobody was stopping them so they kept expanding to the present encroachment which occupies a space even bigger than the restaurant legal property and seats over 150 people all without them paying any tax.
-=-=-=-=-=-=-=-=-=-=
Once others saw that they could get away with this then gradually other parties started doing the same and using public property for their own profit. When we filed complaints with the Najomtien Police we were told that they were well aware of the situation but the owner of the restaurant "knows big people" so therefore they do nothing. (TPN has withheld the name of the restaurant due to Thailand's libel laws, but multiple complaints against this venue have been filed according to the author)
-=-=-=-=-=-=-=-=-=-=-=
There is already a very suitable place for these vendors encroaching on Na Jomtien Beach and it is called the Jomtien Night Market which has been mostly empty every night and has all the space and suitable facilities already in place. Nobody will use beachfront land here in Na Jomtien Beach which cost over 40 million baht per Rai to host street vendors when the place has already been provided in the Jomtien Night Market.
-=-=-=-=-=-=-=-=-=-=-
This is a road and not a market and has become a safety issue because of the constant impediment to the flow of traffic as a result of vendors and visitors parking on both sides of the already narrow road and emergency vehicles cannot get through should a bonafide resident have a medical emergency requiring an ambulance.
-=-=-=-=-=-=-=-=-=-
I have taken 30 minutes to drive the 500 meters from the beginning of the illegal vendor setups to my condo at 10 pm on a weekend night. Heaven forbid someone waiting for an ambulance be subjected to a life-threatening delay like that.
-=-=-=-=-=-=-=-
Additionally, as seen in the cover photo, vendors take public road space by leaving their equipment on the already-narrow road overnight and all day, causing further issues. Many do not clean their areas of the beach, leaving the new beach a mess as well.
-=-=-=-=-=–=-=-
We are petitioning for one side of the road to be designated as "NO PARKING" along the whole stretch from the old Sigma Resort down to Pupen Seafood restaurant and the other side of the road should also be designated as "NO OVERNIGHT PARKING" because of issues from all the large tour buses that were parking there en masse pre pandemic. They would run their engines all night and the bus staff would effectively be living out of the buses, taking make shift showers on the sidewalk and also leaving their garbage on the sidewalks each morning. They had no respect for the residents and only cared about free parking and was a great concern for us prior to the pandemic and we expect the same problems to return once the Chinese tourists come back in the very near future."
-_-_–_-_-_-_-_-_-_-
Thank you for listening,
A Na Jomtien resident