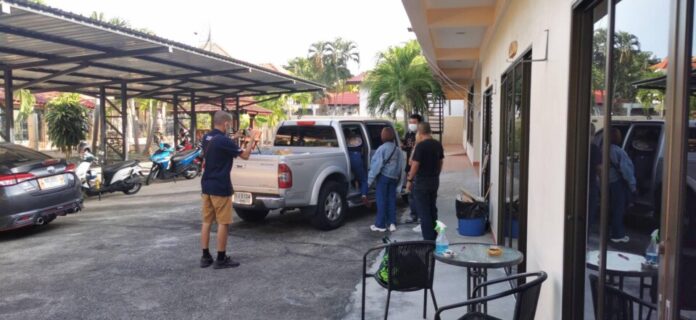 Pattaya, Thailand-
29 unemployed bar girls and one foreign national were arrested by Chonburi police yesterday evening in the Pattaya area for allegedly breaking Covid-19 rules by gathering with many people in a small place to perform online live streams for foreign customers overseas.
Due to Covid-19 rules and restrictions, all entertainment venues nationwide in Thailand have been closed for approaching three months, putting an estimated tens of thousands of people in Pattaya alone out of work with little to no financial aid given from the Thai government to the sector. As Pattaya is so reliant on tourism and the entertainment sector, with some estimates stating as much as 80% of the total GDP of the area coming from tourism, the closures with no financial assistance have caused many people to seek income from alternative revenue streams.
Pol. Col. Thanawut Chongchara, Deputy Commander of the Chonburi Police, Special Operations Unit, led the raid just before sunset at a rented room on Soi Thrappraya 15 in Banglamung.
According to Chonburi Police, live streaming, in general, has been picking up across the city as bargirls and business owners, faced with no government financial assistance like many Western countries that closed business sectors, struggle to find an income with their livelihoods and main revenue source shut off for the past several months.
The live streams vary from small individual productions run by solo unemployed bar girls to larger ones with groups of girls from the various bar and nightclub groups, primarily dancing and interacting with guests online in exchange for virtual drinks that give them a commission. There has also been a significant increase in former bargirls running their own Facebook, Youtube, and Onlyfans feeds, attempting to make an income with their former employer's businesses shut by government regulations.
Police Col. Thanawut Chongchara did not identify by name those arrested and stated that although they understood people being unemployed and attempting to make an income that they viewed the overall issue as having many people together in a gathering style environment without proper social distancing rules.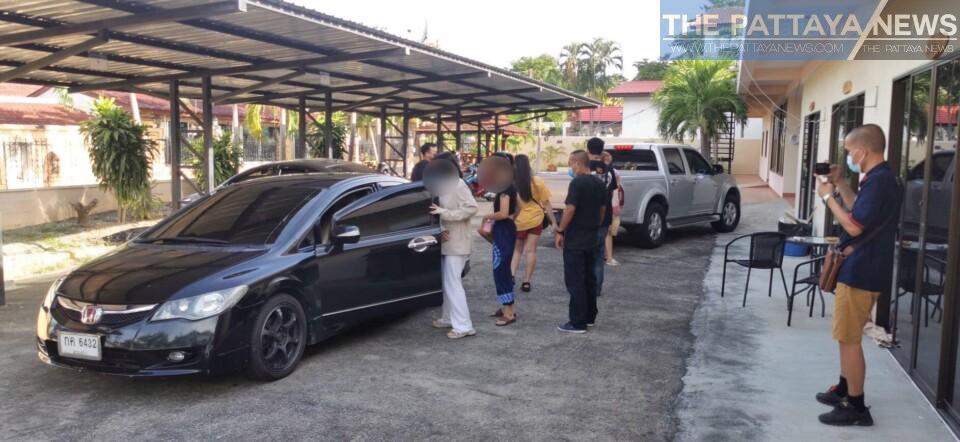 The 29 women and one foreigner, described by police as someone helping to run the live broadcast system, were arrested and brought to a local police station for processing under alleged violation of Covid-19 Emergency Decree and Communicable Disease Acts prohibiting many people from gathering together. Livestreaming equipment was confiscated and taken as evidence.
Livestreaming had been picking up in popularity during lockdowns last year, as we have previously covered in a special report. For the most part, until recently, police had not taken many actions on the live streams but now stated the main issue wasn't the streaming but a violation of Covid-19 rules by gatherings of groups of people.
This comes as the entertainment business sector both locally and nationally pleads with the government for either financial assistance to survive the current closures that have no end in sight or be allowed to open their business with strict Covid-19 rules. In Phuket, for instance, where the "Sandbox" is about to open to foreign tourists, entertainment owners have been told they cannot open, even fully vaccinated, and have been protesting.
Pattaya Business owners have also been pleading to be allowed to open or be given aid. You can read about that by clicking here.
From a national level, many major entertainment associations, musicians, and others in the industry have also been asking the government for financial aid or to be allowed to open their venues.
The Thai Center for Covid-19 Situation Administration has stated that they are sympathetic to those who have lost their jobs but stated this sector was nearly impossible to relax due to people who would not follow Covid-19 rules when intoxicated. They have, however, asked the public for ideas on how to re-open businesses.
We responded to this with an editorial with some ideas earlier this week.
For now, the entertainment sector remains closed in Pattaya with almost no financial aid programs and no end in sight, which will likely lead many more to continue to find potential alternative revenue streams to make ends meet. Meanwhile, despite the shuttering of the industry, cases in Chonburi have actually risen since the closure, primarily driven by cases at markets, factories, construction sites, and densely cramped workers dormitories from the above locations.
Today alone 254 new cases of Covid-19 were announced in Chonburi.