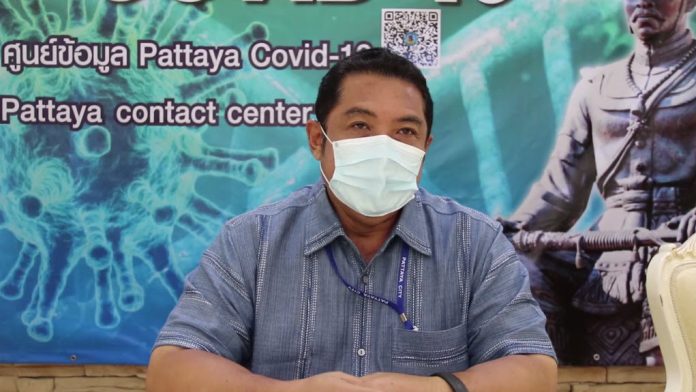 Chonburi-
The Pattaya City Mayor, Sonthaya Khunplome, spoke with the associated Thai press in Pattaya over the weekend, discussing the start of a mass vaccination campaign that began at various locations in Pattaya last week.
According to the Mayor, the start of the campaign had some "bumps in the road" and he was well aware that the number of vaccines was not sufficient for demand nor for the current plan to get at least 70% of the local community vaccinated before hopefully opening to vaccinated foreign tourists and "relaunching" the local tourist-reliant economy in October, per a current plan set by regional authorities and the Thai Tourism Authority.
The Mayor stated that Pattaya, which was the third most visited place by tourists in Thailand behind Bangkok and only slightly behind Phuket, and the 19th most visited place by tourists in the world in 2019, had been identified as a top priority zone by the Thai Government for economic recovery. Other priority zones are obviously Phuket, as well as Koh Samui, Chiang Mai, Krabi, and several other locations.
However, due to a current outbreak of Covid-19 impacting Bangkok, vaccines were reallocated by the National Vaccine Committee to the Bangkok area and surrounding provinces, which left Chonburi with only an estimated 57,000 vaccines for the entire province from the current batch, according to the Pattaya Mayor. 20,000 of these went to Pattaya, Banglamung, and the surrounding area but the Pattaya area was originally set to get an estimated 45,000 vaccines this month, which would have sped up the process to vaccinate Pattaya and restore the economy faster.
Mayor Khunplome thanked the medical staff and teams that helped get an estimated 20,000 people vaccinated in only two days but stressed this was only the start and for Pattaya to recover-which would also help the overall Thai economy recover-the area must be allocated more vaccines and quickly. The Mayor stressed that Pattaya missing a second high season in a row to foreign tourism would be devastating and that he personally would be reaching out to the National Vaccine Allocation Committee, as well as the Chonburi Vaccine Allocation Committee, to attempt to expedite the process.
The Mayor also stressed Chonburi and Pattaya's importance to the ongoing Eastern Economic Corridor initiative and the amount of industry and businesses in Chonburi with Pattaya being a central connection and transportation HUB for this ongoing effort.
In terms of vaccine supply, AstraZeneca is set to be produced locally next month, and the company producing the vaccine, Siam Bioscience, has repeatedly stated that they are on track to their production goals. This, however, will remain to be seen, as June 7th, the estimated date for the major rollout of vaccination around the country, is approaching quickly. Information for foreign nationals interested in taking part of the vaccination rollout nationally can be found in this article.