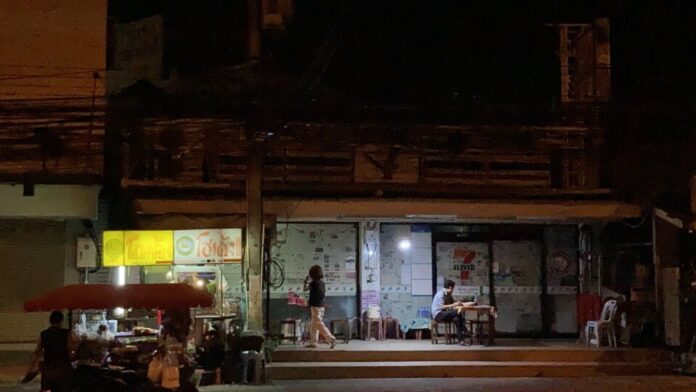 The following is a quick selection of frequently asked questions we have been getting to The Pattaya News about recently becoming a "Dark Red" zone along with Bangkok, Chiang Mai, and several other provinces.
We have been getting dozens of messages and hope this will help clarify some of the most common ones. This is not meant to be a one-hundred percent inclusive list of every possible question and if you can't find an answer we suggest calling the City Hall helpline at 1337. This is meant mainly for Chonburi, as provincial rules in the other dark red zones may be slightly different as governors have the right to strengthen rules (but not weaken them) set by the CCSA. We are mostly going to highlight things that are lesser-known, for the general rules see the links below. All these answers have been taken from Chonburi orders or checked with local officials. Keep in mind though, things change very quickly, sometimes within minutes, but this was correct at the time of publishing.
A link to the national restrictions can be found here for hours
Here is a link with the national restrictions overall
Q. Are beaches open?
A. Yes and no. Public beaches are open (like Jomtien and Pattaya Beach) but many private beaches, including hotel beaches and all the Navy-owned beaches, have decided to close. Additionally, some jurisdictions have closed their beaches. As an overall rule, beaches are open ONLY for exercising. Umbrella chair vendors have been told to suspend service until further notice and people are being asked not to sit, gather, socialize, eat, or especially drink alcohol or throw a party. You also need to wear a mask when on the beach or face a potential up to 20,000 baht fine. Note: We have mixed reports of people being told to get off the sand at some beaches. Your mileage may vary here.
Q. Can I swim on a beach?
A. Yes, if it's not closed as stated above. UPDATE: We have been told this is only for some beaches. Others, law enforcement have ordered people out of the water as wearing a mask while swimming is not able to happen. The city call center confirmed this on major public beaches.
Q. Can I play group sports on the beach?
A. As long as they are not over 20 people, mask-wearing is taking place, and people are socially distanced. No socializing, fans, gathering, etc. UPDATE: We have been told some beaches are discouraging this or have removed nets and taped off the sporting areas.
Q. Do I have to wear a mask everywhere outside, even when exercising?
A. Yes. The basic rule is either wear a mask everywhere outside of your home or face a fine of up to 20,000 baht.
Q. Do I have to wear a mask in my car?
A. Yes. We have got mixed answers on if you need one alone. Bangkok has said if there is more than one person, even family members, they must wear masks in the car. However, we have reports of some people fined for being alone in their car without a mask at the provincial level. When in doubt, wear a mask, especially if you are approaching a checkpoint and will need to speak to an official.
Q. Can I meet other people at their homes?
A. Yes, but it is officially discouraged. The limit on groups of people is 20. Keep in mind, if you are having a party, that is considered a violation of the emergency decree and if caught could face the potential of years in jail and high baht fines. The emergency decree gives the government lots of extra powers to "protect your health". They can also consider less than 20 people a party or gathering for socializing purposes and still apply the emergency decree act, we have confirmed reports of as few as two people being arrested for drinking and "partying" (generally outside or in front of their homes though in public view.).
Q. Is Koh Larn open?
A. Yes, but all other rules and restrictions apply, including no sitting or lying on the beach.
Q. Is Koh Si Chang open?
A. Yes, but see above.
Q. Is (insert place in non Chonburi province open)
A. Please contact that province and check locally, things change very quickly and it is difficult enough to keep up just with Chonburi!
Q. I have a question, complaint, concern who can I contact?
A. 1337 24 hours a day for the city call center
Q. Is golf open?
A. For the most part, yes, but no huge groups, clubhouse activities, meetings, etc.
Q. Is fishing open?
A. Same as golf
Q. Is there a curfew?
A. No. However, everything is essentially closed from 10:00 P.M. to 5:00 A.M. including 7-11's and take away food so there is little to do or go.
Q. Is this a lockdown?
A. Authorities have said this is not a lockdown, they consider a lockdown a strict do not leave your home order or face fines and you are free to go out. That is not in place. However, they are "requesting" people not to travel and to stay at home.
Q. Can I play outdoor sports?
A. Yes, but no fans and must be less than twenty people. Technically, you need to wear masks.
Q. What is the deal with the checkpoints I've heard about?
A. Ok, there are multiple checkpoints, some provincial and some designed to discourage inter provincial travel. There is no ban on domestic travel, however it is STRONGLY discouraged. The overall message is to stay home. We will break this down below more.
Q. Can I leave Chonburi province?
A. If you are a Chonburi resident, aka your domicile and address is here, you will need to get permission from a written form at a juristic office like city hall, Banglamung juristic office, the local village headsman, etc. Only essential trips are allowed, they will decide what is essential. Going to see a friend is not considered essential. If you not a resident, you do not, but may be asked to prove you are not a Chonburi resident.
Q. Can I enter Chonburi province?
A. Yes, you do not need a form to enter, however, you may be stopped at a checkpoint and asked what the purpose of your visit is. The overall goal is to discourage travel as much as possible and make it a hassle.
Q. Can I travel within Chonburi province?
A. Yes, you don't need forms for that, although you could be stopped at a checkpoint, primarily for Covid-19 temperature scans or to check your identification.
Q. Is there a stay at home order?
A. No, but you are "requested" to stay at home unless you have essential business or exercise, etc. This isn't being faced with fines, etc, though.
Q. What time does 7-11, Family mart, etc close?
A. Open 5:00 A.M. until 10:00 P.M. Supermarkets close at 9:00 PM, Malls at 8:00 PM.
Q. What are hours for restaurants?
A. Dine in is banned currently, take away only until 9:00 P.M. Essentially, everything is shut overnight to discourage travel.
Q. Are dentists open?
A. Yes, although some individual ones have chosen to close.
Q. Malls are open? Really?
A. Yes, primarily because closing them would put tens of thousands more out of work and asking for financial aid. Venues ordered closed are closed in malls also, and restaurants are doing take-away only. Food courts are closed for dine-in.
Q. Are barbers open?
A. Yes, but no waiting in the shop and only for basic hair cuts, not for coloring, long work, etc. Beauty clinics are closed.
Q. How long is this going to last?
A. Authorities have said "at least" two weeks, but the orders are all stated "until further notice."
That is all for now, we may add more to this article as we get them. Thanks for your questions and support, you can reach us at pattayanewseditor@gmail.com