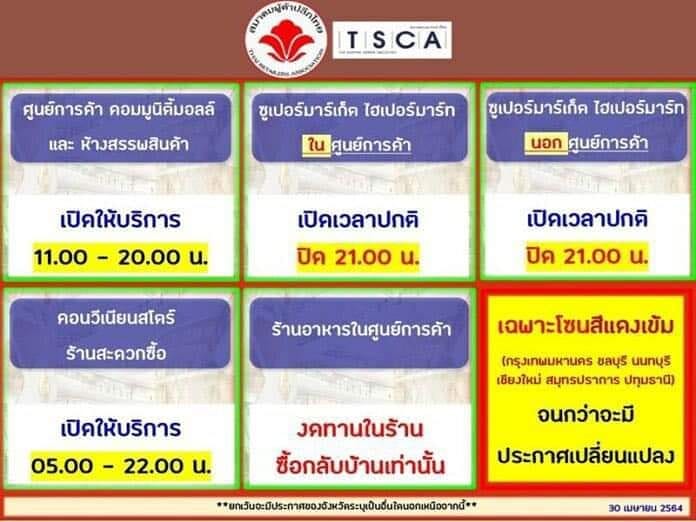 Thailand-
The Thai Retailer's Association, in conjunction with the Thai Shopping Center Association, announced their hours for "Dark Red" zones in Thailand tonight which are stricter than those stated by the Center for Covid-19 Situation Administration (CCSA).
  You can read the CCSA announcement on dark red zones and the new color-coding system for Thailand here.
According to both Thai shopping associations, they will adopt the following rules in "Dark Red" zones which are:  Bangkok, Chonburi (Pattaya), Nonthaburi, Chiang Mai, Samut Prakan, and Pathum Thani effective May First for at least two weeks or until further notice by the Thai government: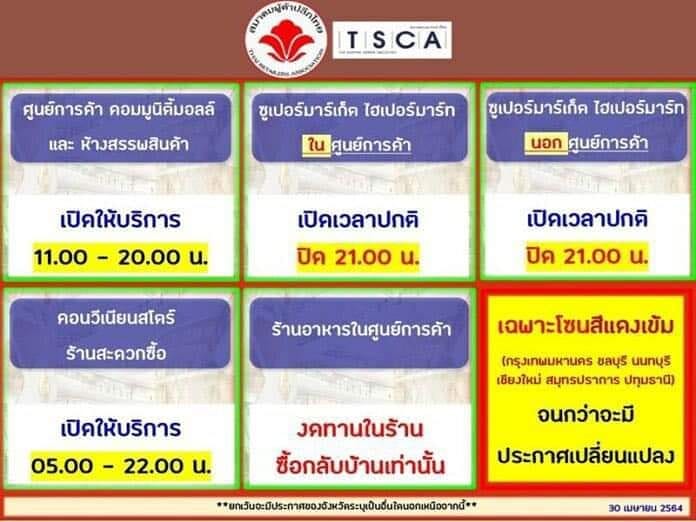 -Shopping malls will be open from 11:00 A.M. to 8:00 P.M. (One hour stricter than CCSA rules)
-Supermarkets will be open until 9:00 P.M
-Markets will be open until 9:00 P.M.
-Convenience stores like 7-11, Family Mart, etc. will be open from 5:00 A.M. to 10:00 P.M. This is stricter than the CCSA rule from 4:00 A.M. to 11:00 P.M.
-Restaurants (including food cart vendors) can operate take away only until 9:00 P.M. Dine-in is prohibited in dark red zones.
-Food courts/open seating areas at markets for dining must close and cannot be open. This includes food cart vendors.
These rules will last at least two weeks from May first but could be extended according to representatives from the retail associations.