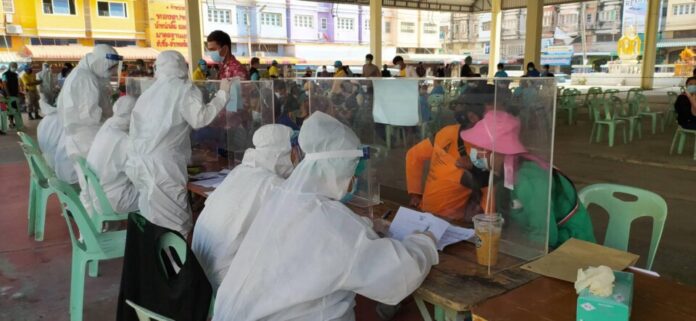 Pattaya, Thailand:
The following is our popular weekly reader talkback results feature in which we ask our readers a question, usually one that is currently in the news, and then highlight a diverse range of answers roughly a week later.
Last week, we asked you the following question:
Reader Talkback: What do YOU think about making Pattaya an area quarantine?
Here is what you had to say. We selected a diverse range of opinions to highlight your answers. If you would still like to chime in you can message us in the comments below, on social media, or mail us for privacy at Pattayanewseditor@gmail.com.
Somchai C-Instead of coming up with new plans every week, Thailand should focus on vaccinating its vulnerable population by the 4th quarter of 2021.
if all people above 50, and those who have diabetes, heart, or respiratory disease are vaccinated, covid won't cause more deaths than just a common seasonal flu.
Ronna F-It is ok provided all residents who live in Pattaya including the domestic foreigners are vaccinated
Martin C-Sounds a good plan
Willi H-If I get 2 jabs beforehand, why not.
James W-Bottom line this is a $$$ move, excluding the health interest of the public. It's been nice without a lot of the 2-week tourists or massive numbers of tourist buses. And the Chinese vaccine is only 74% effective, unacceptable! Minimal it should be is 95% effective but typical Chinese products
Maurizio-I think a good idea for ex-pats too. Living in an area where local residents and vaccinated incoming tourists, plus medical checks to foresee prevention in case of a positive case ought, in my opinion, reduce the risk of contagion and should provide survival aid to businesses.
Albert N-Sounds like another complete nonsense. What is the point to keep vaccinated tourists in the 'zone'? To add 'tracking' and 'regular check-ins' – the true spirit of a holiday. At the same time, thousands of illegal migrants have no vaccination, no PCR tests, no checks…? The government seriously needs to take some lessons on risk assessment and management, instead of the 'ban and block' approach.
John-Vaccinating local residents is an enormous ongoing task; as economic conditions improve, workers will return from all over the country. How to confirm their vaccination status. An island, like Phuket, may be able to pull it off. But Pattaya, a 90-minute bus ride from Bangkok, impossible to isolate.
Nicola C-By end of the year is even too late. If they want they can do it before. But, 2 problems- Pattaya will be in a reverse all vaccinated people lockdown. Nobody could go out. Ok for tourists but very difficult to enforce for Thais. East-west Berlin situation.- Thai hiso (or presumed one) especially in bkk considers Pattaya a low-level Thai citizen area involved in the dirty business (in my experience of course. Open to be contested, but I've heard the worse about local Thais especially women vs other Thais, especially women too). And they don't care about a local business that depends 90% on tourism. I don't think they will appreciate a priority for vaccination for these areas.
Rami C-All foreigners entering Thailand should be vaccinated and quarantined for 14 days, vaccinated people can still get covid and spread it, so 14 days quarantine is vital, better still 21 days just to be sure.
Stuart F- Much easier to make Phuket the destination. Pattaya has too many ways in and out, too much daily commuting between Bangkok.
Phoenix G-How in the **** would you ever enforce such a thing? The idea itself is lunacy. Everyone, go get your ******* vaccine shots and then we can all pop off our masks and go back to normal.