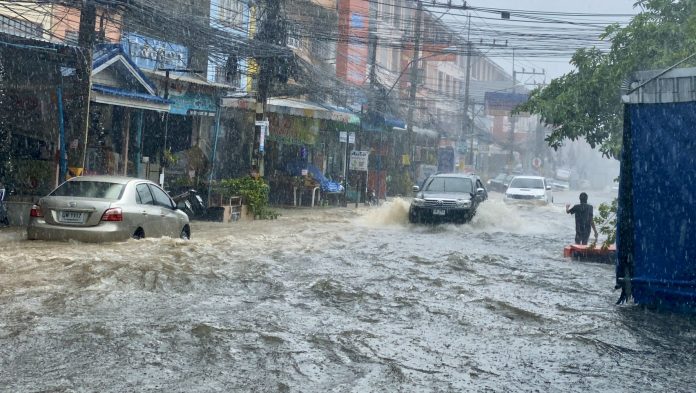 Pattaya-
Summer thunderstorms brought heavy rain and flooding to Pattaya City and surrounding areas this afternoon.
Here is a video taken by our team of the rain this afternoon and flooding:
The Thai Meteorological Department had previously issued a weather warning for the next few days that The Pattaya News also advised upon on our social media and news channels, such as below. The previous advisory was until the 13th of May but has now been extended until the 18th of this month.
https://thepattayanews.com/2020/05/10/next-several-days-likely-to-bring-potential-of-strong-storms-to-parts-of-thailand/
Hot weather and very hot conditions overall are forecast for the next several days. Thunderstorms, gusty winds, hail, heavy rain and flooding is possible in the upper parts of Thailand.
Meanwhile, heavy rains caused serious trouble around Pattaya this afternoon. The rain hit around 3:30PM and lasted for about an hour.
The heaviest flooding was reported on Soi Khao Noi, on Sukhumwit Road and on a road along the railway.
Water found on road surfaces ranged from about 50 centimeters to one metre high. Traffic delays were substantial and traffic police were sent to multiple areas to brave the storms and help direct traffic.
It took about one and a half hour after the rain stopped for the water level to decrease to passable levels, The Pattaya News notes.
A drainage project has been underway for some time in Pattaya but only about sixty percent completed overall according to City officials and was heavily delayed by several months due to the Covid19 Coronavirus. Work has since resumed on the drainage.