Pattaya —
A group of orange-vested motorbike taxi riders, traditionally referred to as Win, in Pattaya allegedly ganged up to obstruct a ride-sharing rider from transporting a passenger. The incident was captured by a bystander and later went viral on social media, raising questions about the behavior of the Win riders.
The altercation, which took place in front of Somerset Pattaya Hotel near the popular tourist spot, Central Festival Pattaya Beach, on Second Road, initially became known to the public through a TikTok video posted by an unidentified eyewitness to the incident.
The video captured the moment when an unidentified conventional motorbike taxi rider suddenly jumped in front of a motorcyclist, who seemed to be a ride-sharing rider from the Bolt app. The problem presumably arose from the fact that the Bolt rider was transporting a passenger on his rear seat, which might have reportedly angered the Win rider waiting for customers in the area. This particular area contains multiple Win motorbike stands and there is currently a "gentlemen's agreement" in place for Bolt riders not to pick up customers within 100 meters of an orange vest motorbike taxi stand, although there are no hard laws about this.
The Win rider briefly confronted the app-sharing motorcyclist in the middle of the busy road before being joined by his fellow riders, comprising over five grown men. They exchanged inaudible words with the Bolt rider before allowing him and his passenger to continue their journey. Many people witnessed the incident, and according to reports, no physical harm was done.
Local media on Tuesday, September 12nd, went to interview Win riders stationed in front of Central Festival Pattaya Beach. They were told that the people who obstructed the Bolt rider and his passenger were Win riders operating on the other side of the road. However, when reporters went to inquire with the opposite side, the riders responded that they did not know, did not see, and were not aware of the incident.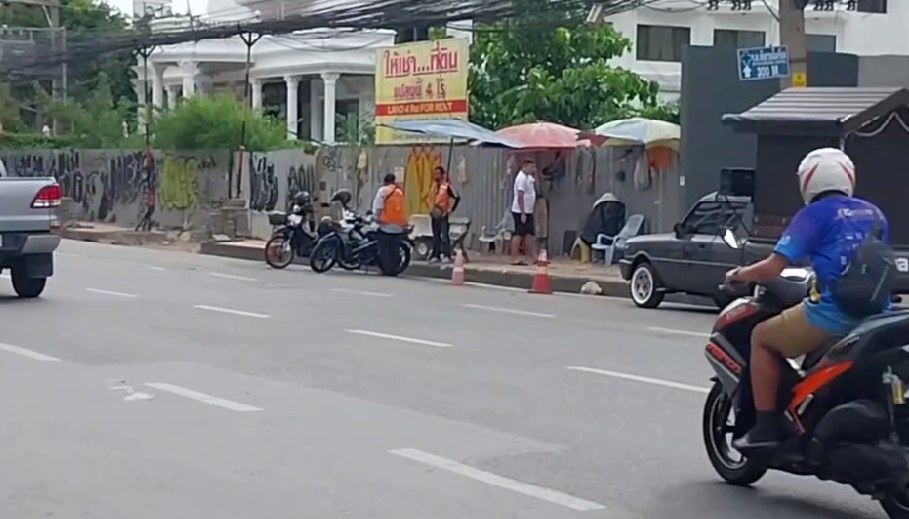 Additionally, hotel security personnel and taxi drivers parked in the area also echoed these sentiments.
It is unclear if law enforcement is currently looking into the incident or not.
The conflict between these rival motorbike taxi riders in Pattaya remains unsolved.
In August, motorbike taxi riders wearing orange vests clashed with a group of Bolt riders in close proximity to the Pattaya Police Station. The altercation resulted in four men from the latter group sustaining serious injuries, with one of them experiencing an almost severed finger.
Pattaya authorities are trying to come up with more measures to tackle this violence, as it has significantly marred Pattaya's reputation as a family-friendly tourist destination, they said.
-=-=-=-=-=-=-=–=-=-=-=-=-=-=-=
Join the discussion in our Facebook group https://www.facebook.com/groups/438849630140035/or in the comments below.