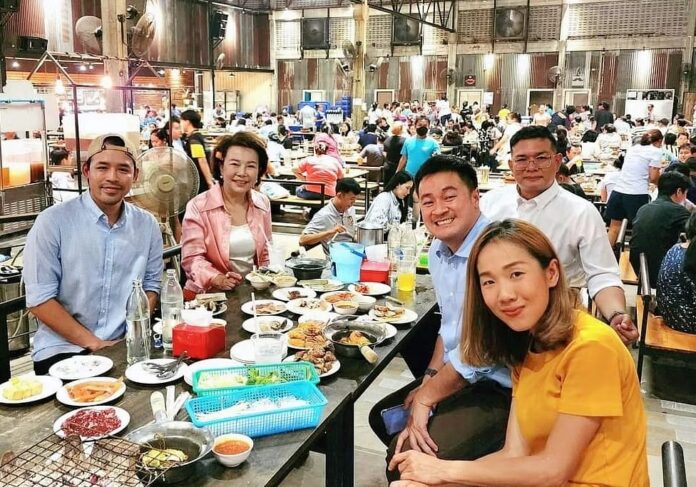 National —
Padipat Suntiphada, the second deputy speaker for Thai Parliament, is in hot water again after he was accused of misusing state funds to throw a mookata (Thai BBQ) party for parliament workers.
Padipat, originally an MP from the Move Forward Party, has not been clear since his first allegation of advertising craft beer, yet he faced another complaint following his decision to host a Thai-style barbecue party for employees working at the parliament.
The complaint arose after Padipat invited 370 parliament workers to a mookata party at a restaurant where each worker was given a free food coupon worth 269 baht each, totaling 99,530 baht.
The coupons reportedly had the deputy speaker's name on it, prompting critics to say that it was intended for Padipat's future political favor.
Additionally, the party was also reportedly funded by the 2-million-baht annual budget provided to Padipat as a deputy house speaker to treat "important guests" in Parliament only, as stated by critics.
The critics went on to say that this was a misuse of the fund which was intended mostly for diplomats, despite vague rules, and that along with the inclusion of Padipat's name on the coupons, it could potentially violate various sections of the criminal code, which if proven guilty could land Padipat in prison for life.
Meanwhile, Move Forward supporters and those who disagree with the allegation argued that critics are trying too hard to prosecute the deputy speaker over what they called a trivial matter.
They pointed out that bigger laws were broken all the time in Thailand, including laws that prevent military coups. Yet, the military still violated them and seized power time and time again without having to face legal consequences.
They added that they believed unscrupulous politicians secretly used this kind of budget all the time to cater to their own guests, and no one has ever dared to scrutinize it. The supporters questioned why, when the budget was used openly and transparently to repay the public as in this case, it faced such harsh scrutiny and criticism.
The case continues to be scrutinized by various relevant legal agencies as of press time.