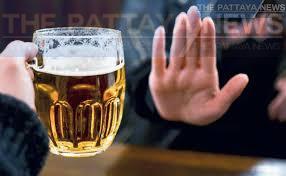 National —
Thailand has some of the strictest alcohol laws in the world, and one of them is a prohibition on advertising any alcoholic beverage. This law carries a fine of up to 500,000 baht and a possible one year in imprisonment.
Now, Deputy House Speaker of the Thai Parliament Padipat Suntiphada from the Move Forward Party may be in trouble for violating this law after he shared a photo of himself holding a can of what he said was a craft beer from his home province Phitsanulok, north of Thailand.
In his Facebook post, Padipat wrote: "Here we go! Phitsanulok now officially has its first craft beer. It's a unique and high-quality product, which represents our province apart from sun-dried bananas and fried noodles."
The post has since been deleted, but it has not escaped criticism from the public, politicians, and petitioners. Some people are calling for Padipat to resign from his position, arguing that he should adhere to the law and be an exemplary figure for the public, given his esteemed political position.
Rames Ratanachaweng, spokesman for the Democrat Party, has rebuked Padipat, calling for him to step down and be investigated for allegedly violating the Alcoholic Beverage Control Act.
It is important to note, however, that Padipat is an MP from the Move Forward Party, which backed him taking the position when it still partnered with the Pheu Thai Party and is also pushing for revising the alcohol control laws and pushing for more progressive laws around alcohol.
Rames also alleged that Padipat violated the ethical conduct of prominent political figures.
Meanwhile, prominent activist and serial petitioner Srisuwan Janya has declared his intent to file a formal complaint with the National Anti-Corruption Commission (NACC) within the next two days regarding this matter.
Srisuwan expressed confidence that this move would lead to Padipat's removal from his position.
Following the widespread controversy, Padipat came out on Tuesday to defend his actions, asserting that his intention was simply to showcase pride in his province's inaugural craft beer. He further vocalized his reservations about the existing law, contending that it obstructs small-scale producers from promoting their goods and perpetuates a monopoly within the alcohol market.
Padipat also highlighted that major corporations have sidestepped these restrictions by advertising their brands on water and soda products, often utilizing identical logos. This, he argued, renders the current legislation ineffective.
It remains to be seen whether Padipat will actually face any consequences for his actions. However, the incident has highlighted the controversy surrounding Thailand's strict alcohol advertising laws.