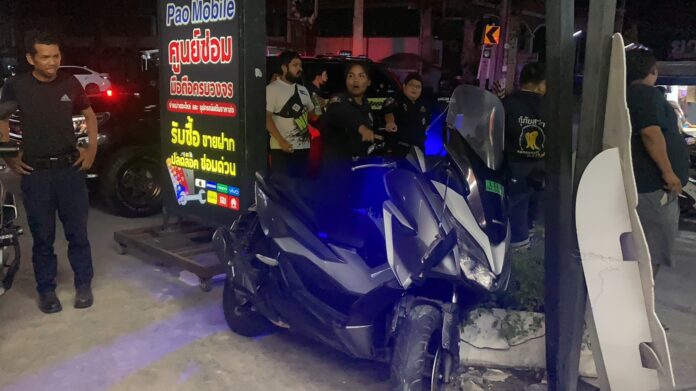 Pattaya —
A Kuwaiti tourist crashed his motorbike into a power pole in the small hours of Wednesday, August 16th. He suffered only minor scratches and injuries and was taken to a hospital by his friends.
A video of the accident and report can be found here.
Police Lt. Col. Niphon Intarakul, a duty officer at the Nongprue police station, told The Pattaya News that the accident occurred at 1:00 AM near a mobile phone repair shop in the Banglamung district of Chonburi.
Emergency responders rushed to the accident scene to rescue the victim after getting a phone call from a witness only to find a group of Kuwaiti men surrounding a damaged gray Honda Forza motorcycle.
They learned from the tourists that some of their friends had already taken the victim, an unidentified Kuwaiti man, to a local hospital by themselves.
The injured tourist was reported to have crashed into a utility pole in front of a mobile repair shop. He suffered only scrapes to his right hand.
The group of Kuwaiti men were found to be negotiating with the unidentified shop owner for financial compensation for the property damage before Pattaya officials arrived. An unidentified eyewitness told rescuers that the victim was riding the motorbike at a high speed in a group before he slammed into a pole, seemingly disregarding road rules and regulations.
Police Lt. Col. Niphon told The Pattaya News that police were reviewing footage of security cameras to identify the injured tourist for possible legal action in regards to compensation for the damages to the shop owner, who was reportedly displeased with initial offers of damage compensation. Pattaya police also wanted to determine if the rider had a proper driver's license, insurance, and registration.
This is not the first accident or situation involving a Kuwaiti tourist recently, as this has become a regular occurrence in Pattaya for the past several weeks.
On August 10th, a group of Thai men clashed with Kuwaiti tourists over a traffic accident in South Pattaya.
The tourist reportedly refused to provide financial compensation for the damage to the Thai man's vehicle and escaped, leading to the fight.
Pattaya police have implemented several measures to deter these accidents including ordering rental motorbike shops to carefully check the identity documents of their foreign customers and keep a record of them, in case those customers used the vehicles to engage in street racing and disturb the public.