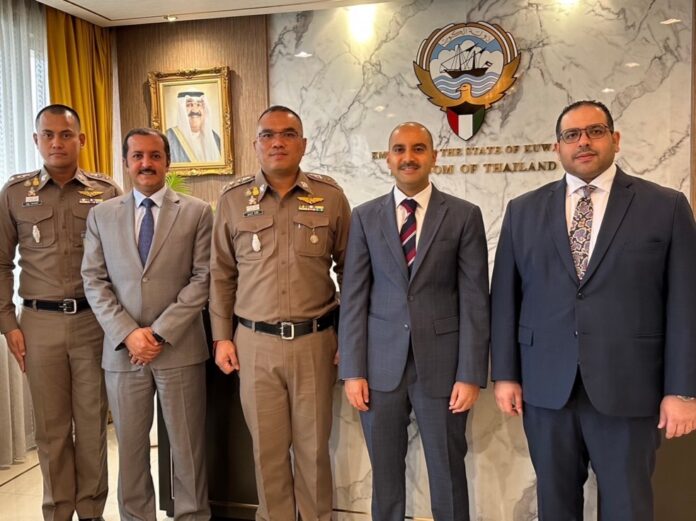 Pattaya —
The captain of the Pattaya police met with the Kuwaiti ambassador on Monday, July 17th, to find solutions to troublesome Kuwaiti motorbike racers in Pattaya.
Pattaya police chief Pol. Col. Thanapong Phothi went to consult with the Kuwaiti ambassador of Thailand Brigadier Faisal ALsuwaileh, Colonel Faisal Ali Sweileh, and Secretary Abdulmohsen AlRefai regarding the rising problems about the group of Kuwaiti street racers.
Middle Eastern joyriders made headlines on several occasions recently due to their reckless and dangerous behaviors on the road.
Last Friday, July 14th, citizens in Soi VC and Soi Yensabai complained about the unbearable nuisance caused by Kuwaiti motorbike riders revving their bikes and racing up and down the streets.
The complaint quickly reached the ears of the Pattaya police the next day, prompting them to launch a crackdown on the racers, resulting in many arrests. The officers also officially warned the Kuwaiti tourists of legal consequences if they were caught riding motorbikes without helmets, driving licenses, insurance, and registration.
However, only one day after the major crackdown, two Kuwaiti tourists got into a traffic accident while riding their motorbike in South Pattaya. One tourist, who is only 19 years old, suffered a severe injury around his knee that nearly got his leg amputated, according to medical personnel.
This likely pushed the Pattaya police to take decisive action, leading to the meeting between Pol. Col. Thanapong and the Kuwaiti ambassadors.
According to Pol. Col. Thanapong, he wanted to enforce the law to prevent accidents and to protect the tourists' safety without impacting the city's tourism image.
In line with this shared objective, the ambassadors reached an agreement to initiate a comprehensive awareness campaign targeting Kuwaiti tourists and individuals planning to visit Thailand.
The primary aim of the campaign is to emphasize the significance of adhering to traffic laws and regulations within the country. The launch of this campaign is expected to take place as soon as possible.

-=-=-=-=-=-=-=–=-=-=-=-=-=-=-=
Follow us on Facebook, Twitter, Google News, Instagram, Tiktok, Youtube, Pinterest, Flipboard, or Tumblr
Join us on LINE for breaking alerts!
Or, join us on Telegram for breaking alerts!