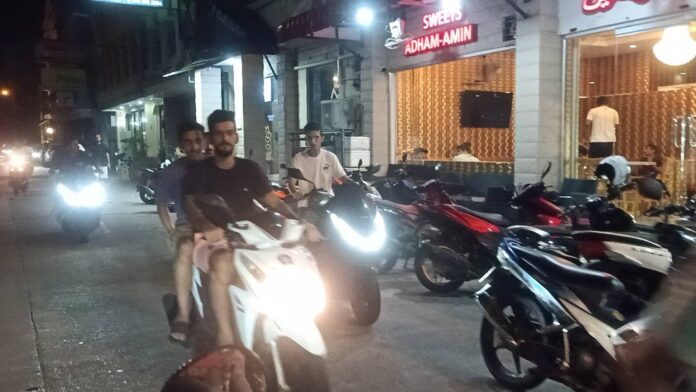 Pattaya —
Pattaya residents and tourists have complained once again about noisy Arabian motorbike racers racing on the streets in the middle of the night.
In the early hours of Friday, July 14th, 2023, several young Middle Eastern foreigners were reported to have revved up their bikes and raced up and down Soi VC and Soi Yensabai in South Pattaya. This disruptive behavior disturbed both residents and tourists residing in the alleys.
For a long time, Soi VC and Soi Yensabai have been a rendezvous for foreign bikers, especially Arabian tourists. Most of them are around 25 years old or as young as 17, according to a resident in Soi Yensabai who asked to keep his name confidential.
The resident said the bikers drove dangerously without regard for traffic rules, blocked traffic, and made loud noises that ruined other people's sleeps. He also said none of them ever wore helmets, had licenses, insurance, registration, or followed other proper road laws and rules.
The concerned resident feared that the delinquents might crash into someone in the future and harm themselves or others.
In August 2022, a group of over 30 Middle Eastern bikers were arrested in Pattaya for racing illegally and causing a nuisance at night.
After receiving continuous complaints, the Pattaya police coordinated with the motorbike rental agents in the city and ordered them to thoroughly check for renters' driving licenses and collect their detailed information.
TPN notes that motorbike rental companies are only supposed to rent to people with proper driving licenses and paperwork. They are also supposed to make it clear that customers must wear helmets, follow road laws, and respect the rules of the country.
Pattaya police are investigating the issue and planning on cracking down in the area where young racers are continually spotted.