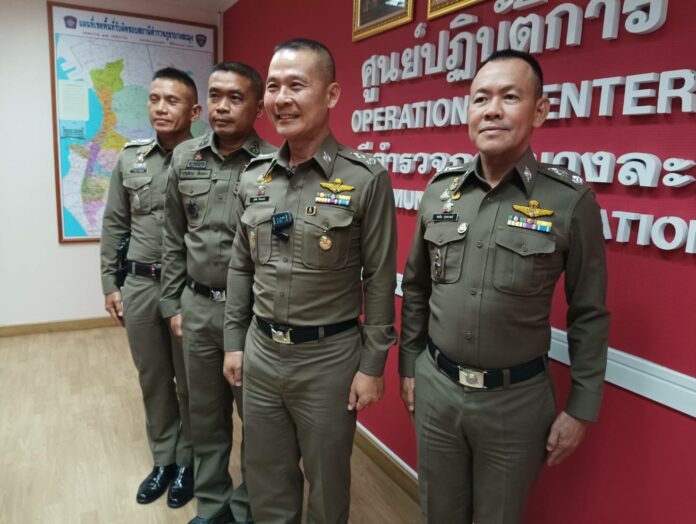 Pattaya, Thailand-
Top police investigating the murder of Hans Peter Mack, a 62-year-old German businessman in Pattaya, have confirmed that at least one suspect, the alleged ringleader Olaf Brinkmann, 52, a German ex-pat, faces the possible death penalty for his alleged actions.
A video report of this story if you prefer can be found here.
We have covered this story extensively over the past week, you can get caught up on the story so far by tapping or clicking here.
Deputy National Police Chief Lt. General Surachate Hakparn, who personally took over the case at the behest of the family of the victim, confirmed that Brinkmann will be charged with premeditated murder, which carries the possibility of the death penalty.
Hakparn pointed at several things leading to the premeditated charge, such as visits to a hardware store, bait shop, and getting a boat involved as part of an overall plan to dispose of the body.
Brinkmann has refused to speak to police except through his lawyer but has professed his innocence and a translator and legal assistant for Brinkmann suggested that the whole incident was an accident, claiming that Mack had a heart attack and the suspects panicked. Thai police are, to say the least, skeptical of these claims as the premeditated charge shows.
The other suspects in the case have not been formally charged with premeditated murder as of press time and may get lesser charges, noted Thai Police, who are reportedly investigating claims that Pakistani/Thai suspect Shahruek Uddin was forced by gunpoint and threats by Brinkmann to participate in disposing of Mack's body. Shahruek claims Brinkmann threatened to murder his parents and harm his wife and sister if he didn't assist.
The other prime suspect, Petra Grundgreif, German, 54, is also mostly keeping silent but has denied she murdered Mack. Another German woman, Nicole Revel, 52, who is disabled and cannot walk without assistance, was detained as a person of interest who resided at the residence of Olaf but police have said she is not a prime suspect but may have been an accomplice.
Thai Police continue to investigate the case which went viral worldwide.