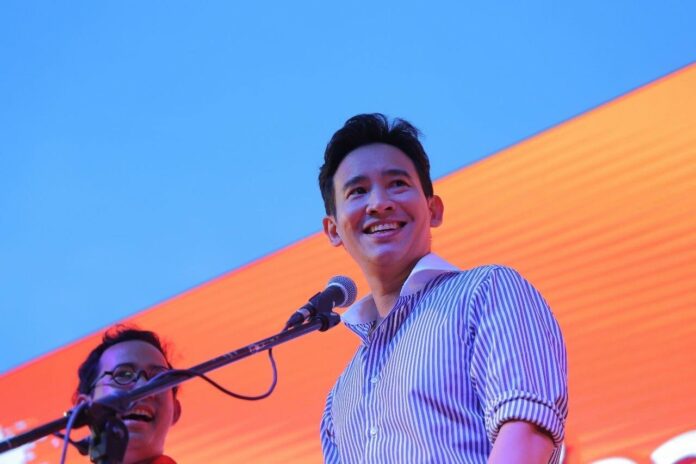 Thailand-
Pita Limjaroenrat, Move Forward Party Prime Minister candidate, says if he and his party fails to form the next Thai government, he will give the chance to his coalition partners the Pheu Thai Party.
Our previous stories:
Pita Limjaroenrat, the leader of the Move Forward Party, has failed to gather sufficient votes of 375 from the joint sitting Parliament, resulting in him failing the first round of the prime ministerial vote.
After failing to push their leader Pita Limjaroenrat to become the Prime Minister, the Move Forward Party is now planning to propose a bill to amend Article 272 of the charter, which grants the Senate authority to choose a prime minister.
Now for our update:
On Saturday afternoon (July 15th) Pita released a video clip on social media. He said in the clip, "Thank you for 324 yes votes in Thai Parliament and putting faith in me becoming the 30th Thai prime minister, especially 13 yes votes from senators. I know that many of those senators have faced significant pressure for their decision to vote yes and listen to the people (Move Forward Party received the most seats in the recent Thai election, with Pheu Thai second.). The most important thing is to thank the people who have supported me and the Move Forward Party. I am sorry that we were still not successful in forming the next Thai government."
"We are the number one party who got the most votes from the Thai people in the general election. We have a responsibility to those people to form the government. We have tried every way possible to follow the spirit of true democracy in order to respect people's votes. This is the fight of the Move Forward Party together with 14 million votes from Thai people to prove that these votes are the future of the country." Pita continued in his video.
Meanwhile, the Pheu Thai Party prime Prime Minister candidates are Ms. Paetongtarn Shinawatra, daughter of exiled Thai Prime Minister Thaksin Shinawatra, and Mr. Srettha Thavisin. There were rumors that Pheu Thai would put forward Srettha as a candidate if Pita could not form a government but Srettha has been mum on those rumors, stating that Pheu Thai currently fully supports Pita as the next PM. Pheu Thai also has Chaikasem Nitisiri, a former attorney general, as a candidate but he has recently had health issues and was hospitalized in April and as a result is not expected to be a prime choice at this time.
Pheu Thai is part of an eight party coalition attempting to form the new government, with the overwhelming majority of members coming from Move Forward and Pheu Thai.
When Thai media asked Mr. Srettha about the situation in terms of the possibility of putting him up for a formal Parliament vote to become Prime Minister he said, "I don't know anything about these rumors. I was not in the recent meeting chaired by Pita. Please wait for the final conclusion from the eight party alliance, we stand behind the current plan for Pita Limjaroenrat as the Prime Minister candidate, thank you."
The next Parliament joint session is scheduled for Wednesday, July 19th, and so far it appears Pita Limjaroenrat's name will be put forward once again for a vote to become Prime Minister. He will need 375 yes votes to become the next PM. It is difficult to see many senators or opposition parties changing their vote to yes, however, as long as Pita Limjaroenrat vows to amend (not abolish) the Lese Majeste laws in Thailand. This has been the primary sticking point for those opposed to making Pita PM but he has held firm on not dropping this promise, stating it was part of Move Forward Party's campaign platform and by dropping this important item they would be disappointing and upsetting a significant portion of their voter base.
Pita has continually stressed that the party does not plan to abolish Lese Majeste but to reduce penalties and punishments for possible violation of the law so that it cannot be used to silence people's opinions. Currently, sentences for defamation of the Royal Family can carry up to fifteen years in jail, even for just expressing a negative opinion online.
The Move Forward Party is also planning to submit a bill to remove the power of the senators, who were appointed by the former military government and not elected, to vote for Prime Minister. This is, however, an upward battle and will be difficult to gain support for say most analysts.
Another possibility is that the minority power in government puts forward a candidate to become Prime Minister, likely Prawit Wongsuwan or Bhumjaithai leader Anutin Charnvirakul. However, both have denied, at least publicly, that this is a possibility and despite the likelihood of the appointed senate voting yes for these candidates, especially Prawit, the Thai public would likely be outraged by this action and due to the minority power in the House it would be difficult, if not impossible, to pass any laws, essentially making this a lame duck government.
Another possible solution that some have proposed is the coalition continuing to put forward Pita's name until the Senator's term expires in May 2024. However, analysts on both sides of the spectrum have dismissed this option stating that it was paramount to form a new government quickly. Pita himself seemed to suggest this was not a solution earlier today, July 15th, by emphasizing that forming a new government quickly was a top priority.
Meanwhile, pro-democracy activists and supporters of the Move Forward Party have pledged to keep up pressure on senators to "Respect the votes and voice of the people" and have arranged multiple protests, including a car protest at several prominent Bangkok sites this weekend.
Finally, Pita Limjaroenrat has several legal cases pending around his holding of media shares that could potentially disqualify him from becoming Prime Minister and have become an increasing problem as the Thai Constitutional Court has vowed to review them. Pro-democracy protesters have been angered by this action as well, claiming that this is just a way to try to avoid accepting the voice of the people and making Pita Prime Minister.
We at TPN media will continue to keep a close eye on this story as the next Parliament vote approaches.