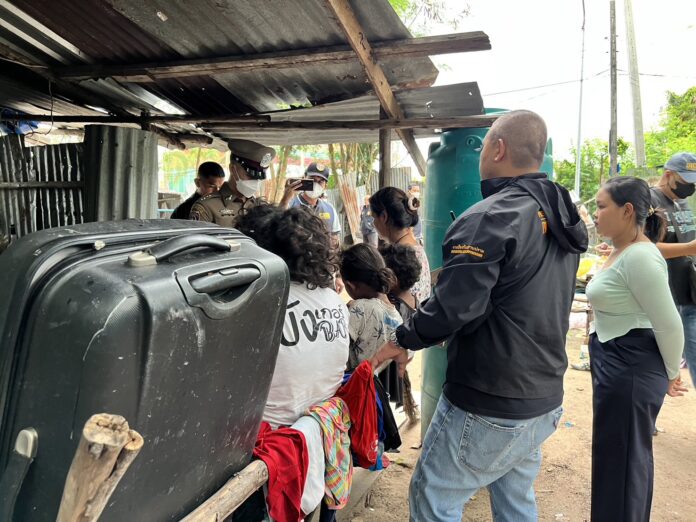 Pattaya –
The Anti-Trafficking in Persons Division (ATPD) arrested 37 Cambodian beggars who were comprised of 19 adults and 18 kids in Pattaya.
Colonel Pattanapong Sripinproa from the ATPD told the Pattaya News that more than 50 officers including Pattaya Police and Banglamung Police first raided Soi Sukhumvit 7 in Nongprue around dawn today, May 27th, 2023. The raids came after continuing complaints from concerned citizens about undocumented migrants begging and bothering business owners, residents, and tourists around Pattaya.
Two homes made of zinc were found on Soi Sukhumvit 7 based on tips given by informants. Seven children aged from one to eight years old and three adults were found. No identification documents were found with them and none of the people present had legal visas or passports allowing them to stay in Thailand.
Officers then raided another target location in Soi Naklua 14. Two townhouses were found with 16 Cambodian adults and 11 kids aged from only a few months old to eight years old. Once again, none of them had legal identification documents, passports, or visas. Items for begging such as cups and bowls and coin counters were also found.
In addition, five of the adults were previously wanted suspects with active Thai arrest warrants, although their names were not released by the ATPD.
One of the alleged beggars identified only as Mr. O, 27, claimed that he was not a beggar but he works at a hotel. However, Mr. O made his situation worse when he admitted he had no work permit or visa to work at the unidentified hotel and ATPD said they would investigate the hotel for hiring employees without legal documents as well.
Mr. O worsened an already poor situation when he also told officers that most of those arrested were not begging but were "only" gambling. Perhaps Mr. O was not aware that unlike Cambodia Thailand has some of the strictest anti-gambling laws in the world and it is strictly illegal and carries worse legal penalties than begging.
The ATPD told the Pattaya News that these beggars illegally entered Thailand. They carried kids with them when they were begging in tourism areas and annoying business owners and tourists. They get at least 300 baht to 1,000 baht per day, the ATPD added.
All of the arrested were taken to the Banglamung Police Station and the Chonburi Shelter for Children and Families to prepare for deportation to Cambodia. Those with arrest warrants will also face additional legal charges.
-=-=-=-=-=-=-=–=-=-=-=-=-=-=-=
Help support The Pattaya News in 2023!
Need legal advice or a lawyer? We can help. Click here.
See more information about listing a property with us by clicking here.