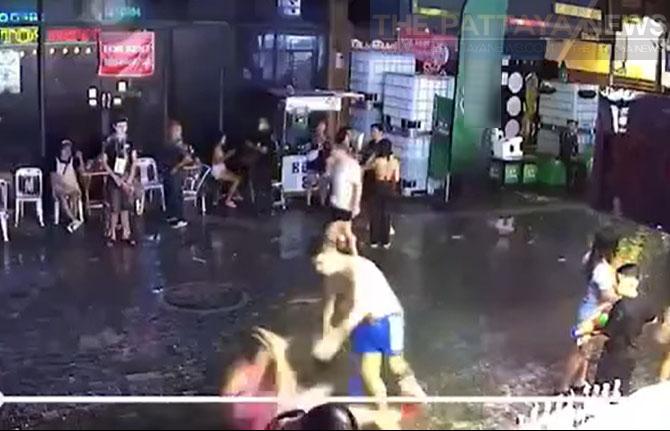 Pattaya –
A 61-year-old Thai man is in serious condition after he was allegedly pushed by a Turkish man upset about having water poured on him during Songkran in Pattaya.
The Pattaya Police Chief Colonel Sompong Poethi told the Pattaya News that the incident took place on the Pattaya Walking Street on April 18th 'Wan Lai' at about 3:00 A.M. The incident went viral after the social media page Pattaya Watchdog posted the video from the incident seen here.
The injured Thai man, identified only as Mr. Chadayut, 61, from Songkhla, who is a parking attendant staffer at a Walking Street restaurant nearby, now has a severe head injury at a local hospital with only a 30 percent chance of recovery according to Col. Sompong. Mr. Chadayut is well known on Walking Street and has been a fixture in the area for some time, stated a witness, Mr. Tam.
The cause of the incident is because the injured man poured a small bucket of water onto a Turkish man, identified as Mustafa A., 28, before he appeared to headbutt and shove Chadayut according to CCTV footage causing him to fall to the ground in front of many shocked bystanders.
Col. Sompong stated that the Turkish man might not understand Thai Songkran culture and the meaning of being doused with water as he was angry. Critics on social media, however, say this is impossible as Mustafa was shirtless and dressed for water play and the evening of the incident Walking Street was a certified water zone with thousands of people playing with water and engaged in water battles in a tourist bar zone.
Indeed, only a few dozen feet from the incident were stages set up in front of Walking Street bars with heavy crowds playing with water and spraying the crowd with hoses while DJ's spun music. Some witnesses also claimed Mustafa had been playing with water himself earlier so any excuses that he didn't know what the meaning of being doused with water was were invalid, according to them.
Mustafa, who has lived in Pattaya for one year, was arrested after the incident. He is facing charges of attacking others causing serious injury according to Col. Sompong.
Witnesses also reportedly told police, according to Sompong, that during the days of Songkran, the Turkish man has caused many troubles.
Mustafa allegedly hit a French couple with a bottle which Pattaya police said they would also look into. He also allegedly got into a conflict with a cannabis shop on Walking Street, causing damage to the venue which will lead to legal action, according to Pattaya Police. They stressed, however, that these incidents were still under review as of press time to determine the exact timeline of events.
Mustafa did not immediately give any statements to the press about the alleged incidents and it was unknown if he had legal assistance or how he was planning to plead to the charges. TPN media will update this story if his statement is released.
-=-=-=-=-=-=-=–=-=-=-=-=-=-=-=
Help support The Pattaya News in 2023!
Need legal advice or a lawyer? We can help. Click here.