Pattaya, Thailand-
Pattaya police, led by Chief Kunlachart Kunlachai, warned unlicensed street cannabis sellers on Walking Street last night, December 10th, 2022, that if they were not licensed, they would have to go.
In reality, this basically means all the pop-up street and market marijuana sellers would need to go as having a proper license only applies to a set business address and location. As the flowers of cannabis are considered controlled herbs, they need proper licenses to be sold, according to Chief Kunlachart.
Cannabis was decriminalized in Thailand in early June, in theory only for medical use although in reality the easing indirectly allowed recreational, but ongoing political battles over the plant has led to the final rules and regulations in a draft bill being stalled in the upper levels of Thai government. Some cannabis opponents have even called for the plant to be returned as an illegal narcotic, essentially banning it once again.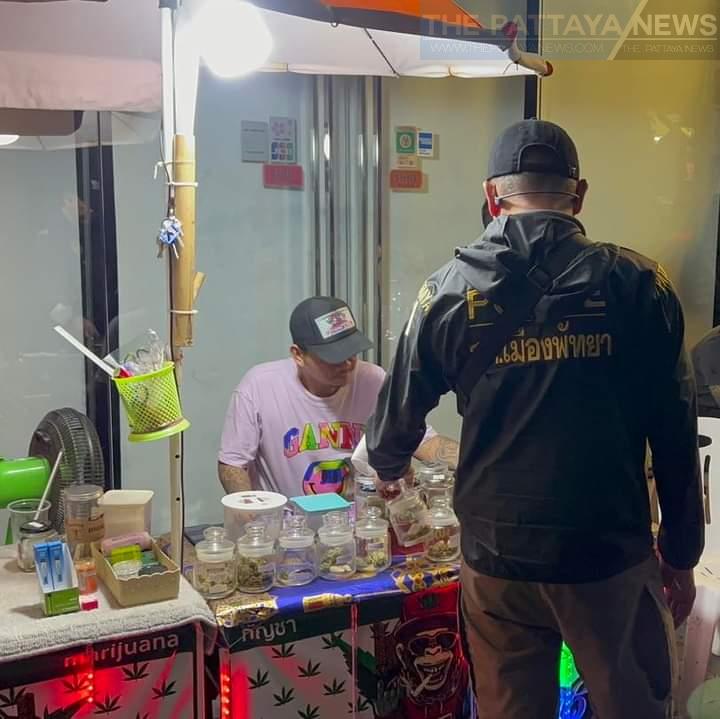 As a result, the Thai Ministry of Public Health have been tightening regulations on their own, recently conducting license checks as seen here and banning online sales, all commercial advertising, vending machines, and most notably banning smoking inside cannabis shops unless a licensed doctor or medical practitioner is present. Some shops have set up seperate smoking rooms outside of the business area, a current legal grey area, to get around the smoking ban. Opponents of the ban on smoking at cafes or shops say this will only force users, especially tourists without private residences, to smoke in public or at hotels possibly bothering other guests.
Chief Kunlachart stated law enforcement would return in the near future to ensure their orders of getting properly licensed or cease doing business were being followed. He also noted that many Pattaya cannabis businesses with commerical addresses were following the new regulations around licensing, advertising, and no smoking in shops and thanked them.