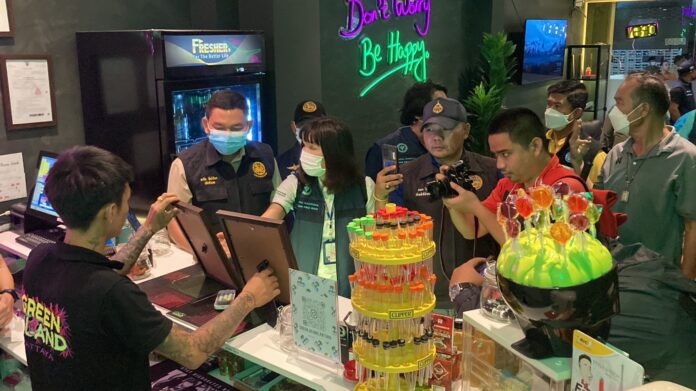 Pattaya-
Pattaya City Police, Tourist Police, and the Ministry of Public Health inspected multiple cannabis shops around Pattaya tonight, December 2nd, 2022, to check on compliance around tighter rules recently set in place in Thailand.
The new rules and regulations include banning smoking inside of shops, although some venues have been creative and have installed seperate smoking rooms that are not part of the main business. Exceptions are also available with proper medical staff on duty but only for medical purposes , in theory.
The visits checked licenses, in which no discrepancies were reported, and also warned venues not to try to find grey areas to allow customers to smoke inside shops.
Additionally, cannabis shop staff were warned to not sell to patrons under the age of twenty. Attention on this matter rose significantly earlier today when viral photos of homeless kids smoking cannabis on Pattaya Beach were widely shared.
Tonight's visits were primarily educational according to inspecting officers but they warned that if venues violated the rules they could face up to a year in jail and/or fines of up to 20,000 baht.
Thai politicians, meanwhile, continue to debate and argue over final cannabis laws with some opposition still wanting to make the plant completely illegal once again. Cannabis was decriminalized in Thailand in early June of this year but has been a continued political hot button.