National –
The University of the Thai Chamber of Commerce (UTCC) estimates an economic loss of more than 20 billion baht and a drop of GDP of 0.15 percent due to the continued flash floods in many areas across the country this month.
UTCC President Thanavath Phonvichai revealed to the Associated Press on Wednesday, October 12th, that the Consumer Confidence Index in September has improved from 43.7 to 44.6 for the fourth consecutive month and is the highest in the past eight months, however, the number is still below a medium of 100.
The majority of the public believed that the Thai economy has not yet recovered, as shown in the overall economic confidence index which remains at 38.6, and the confidence index about future income which is at 53.3. All of them are below the medium, the president stated.
Thanavath continued: "People believe that the Thai economy still has two vulnerabilities. First is the political stability, especially when the Prime Minister was ordered for duty suspension. This results in a drop in the Political Situation Opinion Index in September for the first time in six months to 33. Second is the widespread flooding situation which affects customers' spending."
"Political problems and flooding are the main risk factors for the Thai economy. Recently, the Thai Chamber of Commerce has raised its forecast of the economic impact of flooding to 12-20 billion baht from the initial estimation of 5-10 billion baht in September as the disaster expanded in industrial areas such as Ayutthaya, Saraburi, and Nakhon Sawan."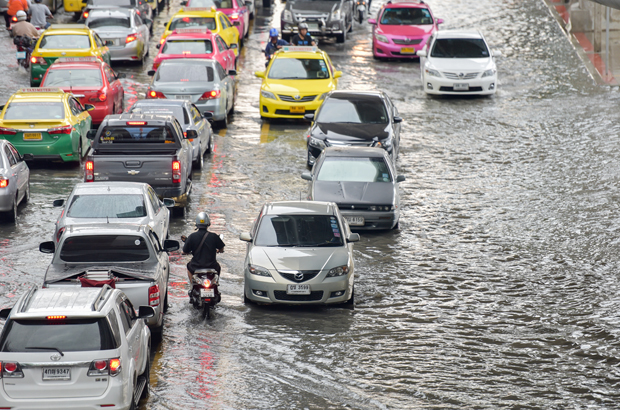 In terms of the agriculture aspect, the damage is about 6-8 billion baht. The flood is mostly found in the field crops, not the livestock. Therefore, it does not affect food prices. In the industrial sector, the damage is estimated to be around 6-12 billion baht, which may also affect the reduction of the overall GDP by 0.1-0.15 percent, the UTCC president added.
The UTCC and the business sectors urged the government to provide urgent assistance and remedial measures for the businesses suffering from flood damage, such as offering low-interest loans, taking care of the cost of production factors and interest rates not increasing as quickly as the US Federal Reserve which is expected to rise to 1-1.25 percent sometime soon, and finally, ensuring that the Thai baht is stable and not depreciating too quickly.
-=-=-=-=-=-=-=-=-=-=-=-=-=-=–=–=–=–==-
Need Covid-19 insurance for your next trip to Thailand? Click here.
Follow us on Facebook
Join us on LINE for breaking alerts!