National –
About 17 provinces have been suffering from flash floods caused by tropical storm 'Dianmu' since last Thursday, damaging 197,795 households with 7 deaths and 1 missing, the Department of Disaster Prevention and Mitigation reported today, September 29th.
In Chaiyaphum and Nakhon Ratchasima, two of the hardest-hit provinces, more than 160,000 rai of land was reportedly damaged. The water level was reportedly reaching 2 meters in areas located near Chi river as well as small streams and river banks. Roads connected between the two provinces were also cut off.
Some houses were swamped as the water level reached as high as the roofs of local homes. Many cars, pickup trucks, and motorcycles were abandoned on flooded streets. A local villager said that this flooding was as severe as the one back in 2011, which was the last major flooding event in Thailand.
Provincial authorities have warned local residents in high-risk areas to evacuate and prepare for rising water levels. Evacuation centers were provided for those whose homes were severely swamped and pumping stations were being installed to potentially reduce the damage.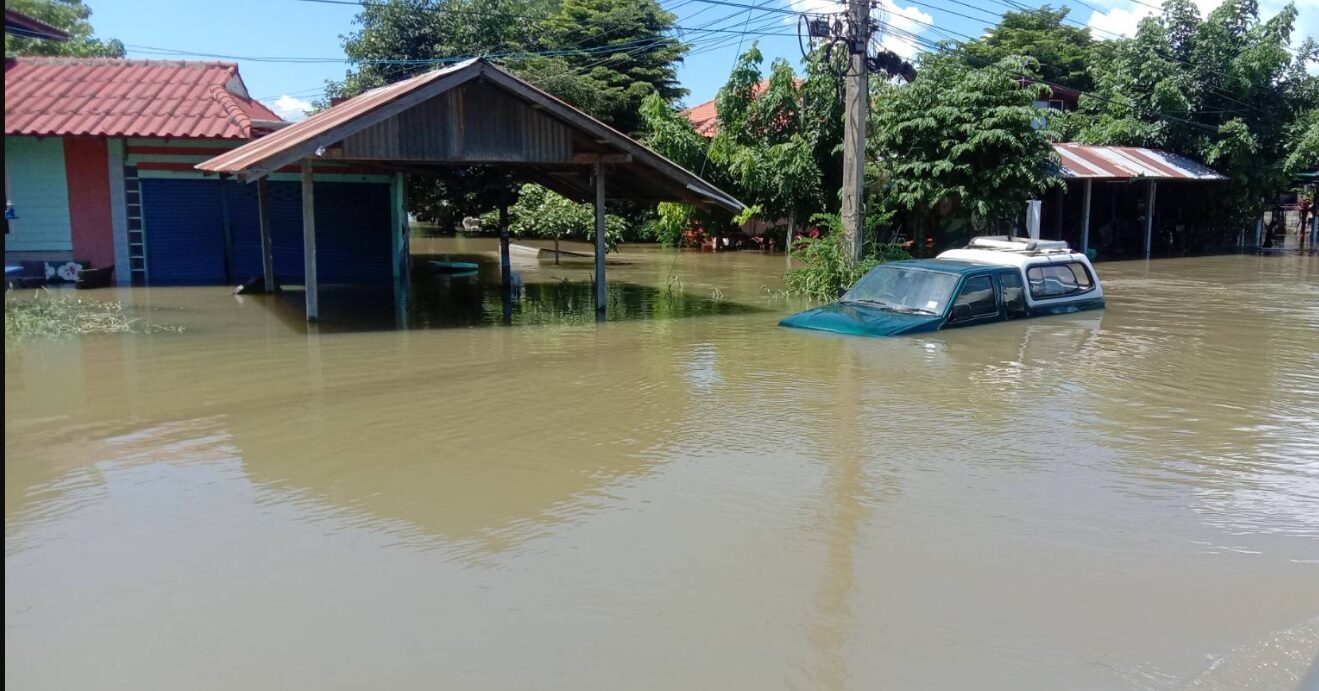 As for central parts of Thailand, the water level in Chao Phraya Dam has discharged 2,784 cubic meters/second as of 4:00 PM., considered the highest drainage in 2021 so far. The constant water discharge has widely damaged 6 sub-districts, 33 villages, and 793 households.
Samnao Makum, a former village headman from the Pho Nang Dam Municipality of Chainat province, told reporters that authorities and volunteers have filled sandbags in the high-risk areas but failed to block the currents into local accommodations as the water level was rapidly rising overnight.
Samnao said: "About 153 households were flooded and roads were cut off with the water levels about 50-150 centimeters. Although this area was likely to be damaged by the floods every year, the villagers couldn't get used to it."
Many people also refused to leave their homes as they had not prepared to pack their belongings and felt they could get through the floods. Some were also afraid of the potential of theft. Necessary facilities, such as toilets, electricity, and drinking water, had also not been properly provided by local authorities, according to local residents.
"Villagers who managed to leave their homes did not know where to stay. I would like to urge the relevant agencies to urgently help them as soon as possible," the former village headman stated.
TPN media will continue to update on the flood situation in Thailand.
=-=-=-=-=-=-=-=-=-=-=-=-=-=–=–=–=–==-
Follow us on Facebook,
Join us on LINE for breaking alerts!