Chonburi –
The Chonburi Department of Public Health announced 523 new and confirmed cases of Covid-19 today with two new deaths, July 15th.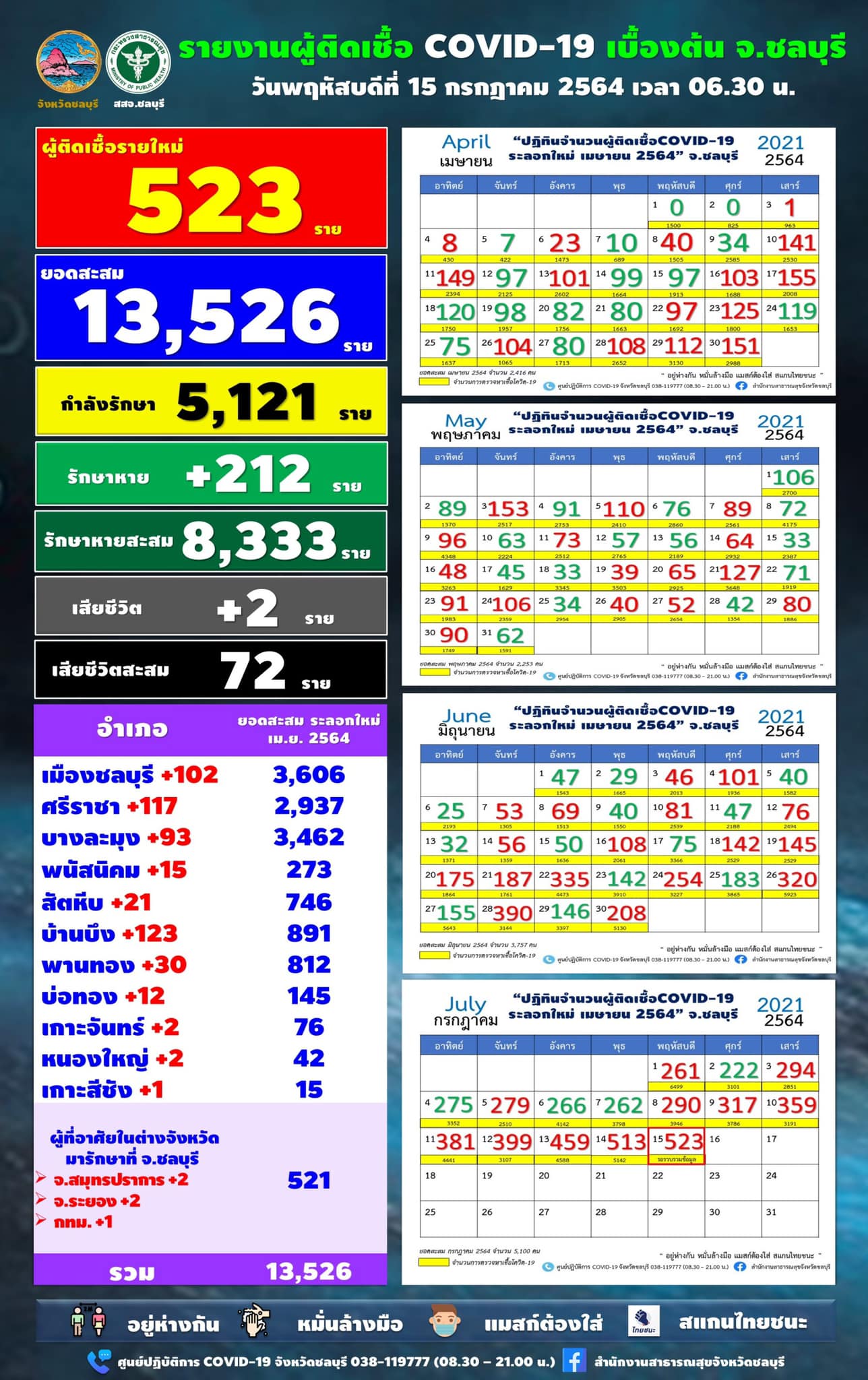 523 is a new record high for cases in the province. However, 212 people were also released and recovered yesterday in Chonburi.
This makes a total of 13,526 cases of Covid-19 in the current round of infections, with 5,121 still under medical care/supervision, and with a total of 72 recorded deaths in Chonburi since the start of this recent round of infections in early April. The details on yesterday's deaths were not given, which is standard for the health department.
Additionally, 8,333 people in total have now been released from medical care and recovered in Chonburi since this current wave began.
The district-level new cases were as follows today:
Mueang Chonburi 102, Si Racha 117, Banglamung (Pattaya) 93, Panat Nikhom 15, Sattahip 21, Ban Bueang 123, Pan Thong 30, Bor Thong 12, Ko Chan 2, Nong Yai 2, Koh Si Chang 1, and 5 new cases transferred from other provinces for medical care.
The details on the cases are as follows:
1. Cluster, Hen Fong Home Living Technology Co., Ltd. (Thailand), Ban Bueng District, 87 cases
2. Cluster, Prime Products Industry, Bor Thong District, 12 cases
3. Cluster, an unnamed establishment in Ban Bueng District, 7 cases
4. Cluster, Charoonrat Products Company, Ban Bueng District, 3 cases
5. 3 medical personnel
6. Risky occupation, meeting a lot of 2 people (customer-facing roles)
7. People who recently visited other provinces:
7.1 Bangkok 1 person
7.2 Rayong province, 1 case
8. Surveillance of high-risk area employees' residential building, Village No. 3, Bowin Sub-district, Siracha District, 38 persons
9. Surveillance Takhian Tia Market Banglamung district 4 cases
10. Screening for high-risk groups at a government housing community in Mueang Chon Buri district 14 cases
11. Maxis International (Thailand) Co., Ltd., Rayong province 1 person
12. Close contact with previously confirmed cases:
12.1 Traveling from high-risk areas in Bangkok 14 cases
12.2 11 close contacts in general
12.3 1 person traced to a recent illegal party
13. Other close contacts:
13.1 86 family members
13.2 Co-workers at 71 workplaces
14. Close contacts (under investigation) 81 cases
15. Currently under investigation in general 86 cases
A total of 903 close contact searches were received today with 1,896 initial proactive searches, and more proactive search reports are pending.
There are currently, in Chonburi, clusters of Covid-19 at 14 establishments and five markets, 10 construction worker camps, and four communities.
The Chonburi Governor released several new orders effective on Tuesday, July 13th, 2021.
Chonburi Governor releases new order: Stay at home request for cooperation overnight, Closure of many businesses overnight
Chonburi also has also cut the limit on gatherings to 50 from 100 and required strict permission for all food and donation charity lines.
Chonburi releases new order dropping gathering limit in half, requiring permission for charity events, temporarily closing another factory