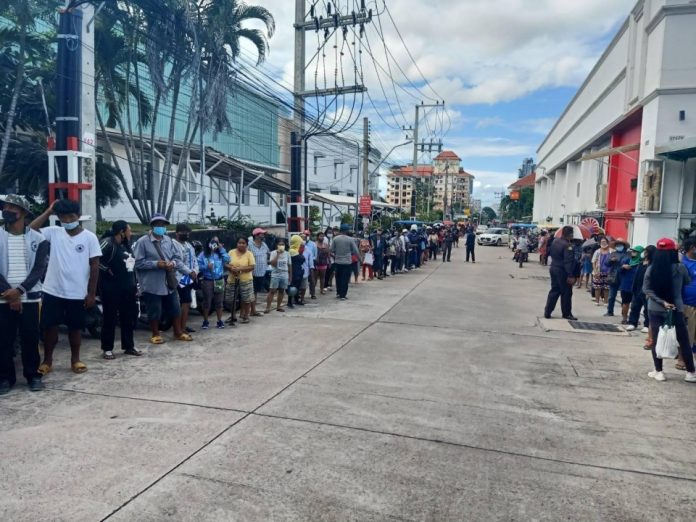 Chonburi, Thailand-
  The Chonburi Governor released a new order this evening, July 14th, 2021, dropping the gathering limit in half from 100 people to 50 people, stating charity events must have permission from local officials, and closing a local company.
The orders are to help prevent the spread of Covid-19, according to the orders.
The first order, 54/2564 states that the Prime Production Company Limited in the Kasetsuwan sub-district in Bor Thong, Chonburi, has been identified as having multiple cases of Covid-19.
As a result, the factory will be temporarily closed until at least July 29th, 2021. All staff will need to comply with disease control official orders and those who live on the premises are forbidden from exiting the area during the closure period, regardless of Covid-19 testing status, unless given permission by a disease control officer.
The second-order, 55/2564, states all activities in which groups are gathered of more than 50 are prohibited unless authorized by provincial officials. This is primarily for official meetings, business gatherings, religious gatherings, formal events, company meetings, etc.  Gatherings of as few as two people for the purpose of drinking alcohol or partying are already forbidden, especially overnight, TPN notes.
The second part of the order states that anyone who wishes to organize a donation or charity event, such as a food giveaway, MUST get permission from local authorities, or the event is prohibited. Additionally, if authorities give permission and see an event that is not following Covid-19 rules, especially social distancing, the event will be shut down. Law enforcement is providing assistant to charity donations to help social distance and enforce Covid-19 rules, notes TPN media.
The second order is effective from today, July 14th, until further notice.