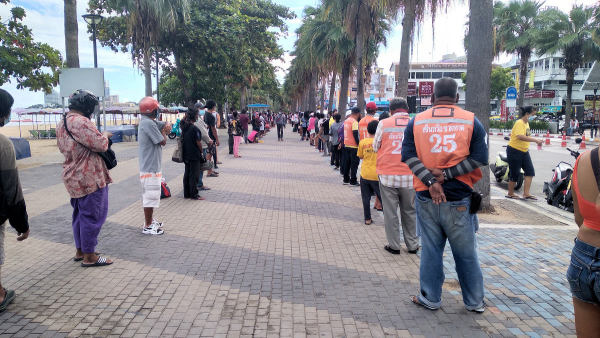 Pattaya, Thailand-
In 2020, in 90 days, 27,000 meals in total were distributed on Thappraya Soi 5. at the instigation of Mr. Gachoud Olivier, a Swiss citizen. We originally covered this last year here.
This charity effort took place to help the needy, hungry, homeless, and jobless affected by the thousands in the Pattaya area due to Covid-19 restrictions, closures, and related measures implemented to attempt to control the spread of the virus.
The situation in 2021 being still worrying, and the businesses related to tourism being, for the most part, closed as of April 10th, 2021, also having repercussions on other activities, Mr. Gachoud and his friends Farangs and Thais, started again this operation of delivering one free meal per day to the more destitute.
This operation began on March 16, but as the Covid 19 situation deteriorated, the Pattaya town hall asked the charity team to suspend distributions on May first due to concerns of social distancing and growing lines of hundreds of people at times.
However, the city eventually backed down and agreed to allow charity lines to run again, despite a worsening situation, instead opting to have law enforcement staff help social distance and control crowds with strict Covid-19 measures.
On June 16, Oliver's team was authorized to resume the distribution of meals, and are pleased to announce that they have resumed these distributions every day at 8 am on the Beach Road, at Soi 9, and for now will continue until August 1st, 2021, Swiss National Day
TPN media thanks Oliver and his team for their hard work helping those most in need in Pattaya, a city dependent on tourism for about 80% of its GDP and that have had its world-famous nightlife industry shuttered for three months now, with no end in sight, unemploying thousands directly and affecting tens of thousands more in industries affected by the lack of traffic such as hotels and restaurants.
You can contact them at this address for information or donations jpthai43@gmail.com