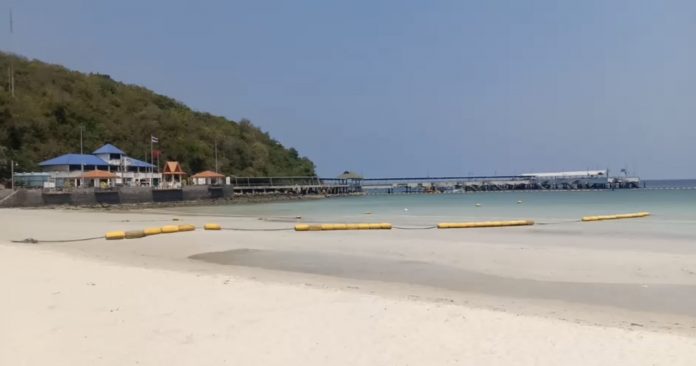 Koh Larn, Pattaya, Chonburi-
According to Pattaya City and Koh Larn authorities, the island will stay open to domestic tourists and visitors for the time being despite a recent connection of a Covid-19 case to the island from a restaurant employee and steady cases of Covid-19 in the area.
According to Koh Larn News, a Thai language news source on social media for the island, a recent infected case of Covid-19 related to the island was a restaurant employee who worked briefly from April 3rd to April 6th and then quit his job. During his brief tenure at a restaurant, whose name was not released by Koh Larn News, the employee visited entertainment venues on the mainland in Pattaya one night and then returned to the island.
The person in question was contact traced from another Covid-19 case and tested positive afterward. Koh Larn authorities closed the restaurant in question for three days and also tested multiple contacts, including three close contacts, of the person in question. All tested negative but have still been placed into isolation for a period of fourteen days. There have been no other positive cases found connected with the island and as a result, the popular tourist attraction will stay open, although strict Covid-19 precautions are in place and being monitored by authorities, including mandatory usage of the Thai MorChana check-in and tracing application on a phone.
Koh Larn authorities also said that although most people cooperated with wearing masks on the island, a small minority did not, mentioning that, according to them, it was primarily foreigners who were not following the rules to stay masked at all times, including outside.
As for now, there are no plans to "lockdown" the island in the current round of Covid-19. Precautions have taken place and entertainment venues on the island have been closed such as bars and pubs but all outdoor activities like boat tours, jet skis, diving, etc. remain open unless an order comes in from a higher level such as the Center for Covid-19 Situation Administration (CCSA) in Bangkok. Restaurants, hotels, and other activities are also still open to domestic tourists, with Covid-19 precautions.
As of press time, Chonburi also has no restrictions to enter or leave the province.