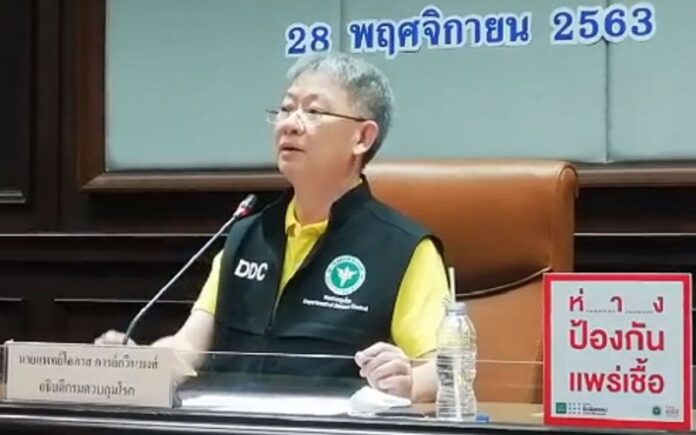 Bangkok, Thailand-
The Department of Disease Control in Thailand confirmed yesterday, April 12th, 2021, that they have no plans currently, despite rising cases of Covid-19 in Thailand, to change a current policy that requires anyone who tests positive for Covid-19, even if they are asymptomatic, to require hospital care.
Dr.Opas Karnkawinpong, Director-General of the Disease Control Department, made the confirmation yesterday to the Thai press.
Dr. Opas stated that there is no current policy, or plans to implement one, to allow people to quarantine or self-isolate at their homes if positive for Covid-19.
Dr. Opas added that although there were reports of many hospitals that were full in terms of hospital beds due to the policy, the Thai Government was implementing field hospitals in many jurisdictions and would also be implementing what they call a "Hospitel" (their spelling) plan in which people who were asymptomatic or very mild symptoms could quarantine at hotels set aside for the explicit purpose of quarantine. Many of these hotels were current or former alternative or local state quarantine hotels that served people returning to Thailand from overseas.
Dr. Opas also defended Thailand's policy, stating that it allowed them to better control the potential spread of Covid-19 to friends and family members and provide proper assistance and health care to those who needed it.
Dr. Opas also added that currently all Thais and migrant workers could get a free test for the virus and that a 3 billion baht budget has been set aside for this purpose. Foreign nationals would need to pay unless they had specifically been identified as a person of interest from a contact or timeline of a Covid-19 patient or location previously.
Dr. Opas's statements come as reports have come in from some Thai media that some people, especially foreign nationals, were avoiding Covid-19 tests not out of fear of the virus but out of fear of having to hospital quarantine for several weeks if positive, even if feeling well, or due to financial costs. (Foreigners would need to pay for their hospital stay.)
Thailand reported almost 1,000 new cases of Covid-19 yesterday, April 11th, most linked originally to a cluster that originated from nightclubs in the Bangkok area.