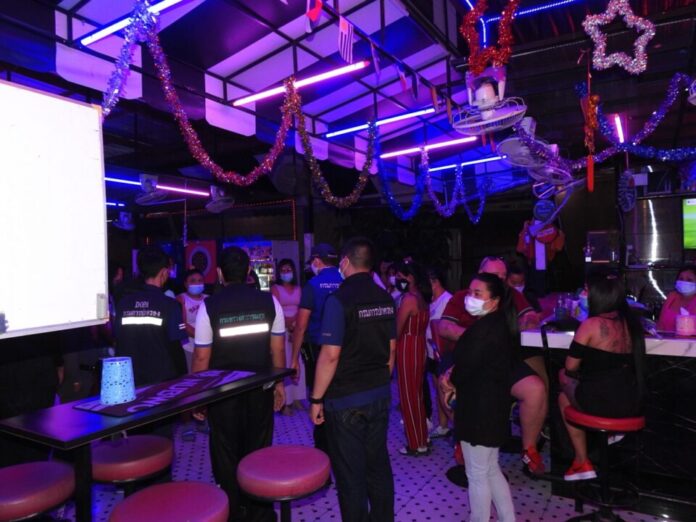 Pattaya-
The following is our popular weekly reader talkback results feature in which we ask our readers a question, usually one that is currently in the news, and then highlight a diverse range of answers roughly a week later.
Last week, we asked you the following question:
Reader TalkBack: What time should bars and clubs in Pattaya close?
This came after many complaints from the local bar and nightlife owners who have been pressuring city, regional, and national leaders to relax closing times for businesses in the Chonburi area, especially tourism and nightlife-dependent Pattaya. We decided to wait to post the responses until today, Wednesday, February 24th, as the Center for Covid-19 Situation Administration officially changed the hours this week by moving Pattaya to a lower risk zone. This now allows Pattaya to close nightlife venues at midnight, an improvement from 11:00 P.M. which was fairly strictly enforced since nightlife venues were allowed to re-open on February 1st.
However, many business owners who have spoken to The Pattaya News want Pattaya to have its special administrative zone status back, which, among other things, allows the city to set its own closing times. Previously, before Covid-19, this was often the very wee hours of the morning.
  Here is what you had to say. We selected a diverse range of opinions to highlight your answers. If you would still like to chime in you can message us in the comments below, on social media, or mail us for privacy at Pattayanewseditor@gmail.com.
Andy C- I see no reason why they can't go back to the pre lockdown closing times as long as preventative measures are taken.
This week we have seen hordes of Thais outside banks waiting to register for a government subsidy with no policing of the current virus regulations whatsoever.
Double standards.
Craig C- There should be no compulsory closing time. Up to the individual business's what time they wish to close. Supply and demand will self-regulate the closing times.
With covid restrictions, you are either closed or open. Not half pregnant
Nuanjan- I'm an old-timer and am normally in bed by midnight. BUT, I see no logical reason for the bars to close before 1:00 AM, virus or not.
Zelda P- Of course there should be no compulsory closing time! It is none of the State's business what time we want to go sleep. Ridiculous. Many people came here because they wanted to escape from the Nanny State and now they find the same silliness here, more and more. I can remember that when we had a nice night out we saw the sunrise on our way home. Lovely. Thailand was a much nicer place before they started to imitate other cultures.
Somchai C– Walking street and LK should have no closing time, people should be allowed to party till sunrise. But other neighborhoods, like residential areas with condos and hotels, should stop the music at midnight, as it can be very disturbing for people who live there on a permanent basis.
Mikael R– If it was up to me, close them at 9:00 P.M. and rezone the whole area for non-entertainment. We keep saying we want to make this a family area and attract Thai tourists, so make the rules uncomfortable and undoable for all the bars and nightlife and push it out. Perfect time to do it during Covid. Also, enforce afternoon alcohol selling times and legal opening time of 5:00 P.M. for bars so you force them out there too.
Peter M- For the nightlife areas, like Soi Buakhao or Walking Street or Soi 6, let them close when they want. However, as an ex-pat who lives near a Thai nightclub far away from these areas that are often (even recently) open until 7:00 A.M. these need to be enforced. These are residential areas, mostly with older ex-pats, not party areas.
Stephan- At whatever time the local officials decide. It's their job, not ours. The people's safety and the ability of the medical services to cope are paramount.
Allan A- In regards to your question at what time bars and nightclubs close.
It should be last drinks at 4 am and close at 5 am. Why last drinks 4 am, most tourists love going out and having fun late while on holiday. By having the last drinks ordered at 4 am then you have one hour to drink and leave. If you have your last drinks at 4 am you then get a lot of people who skull their last few drinks only to walk out bombed, drunk as a fish.
So last drinks at 4 am (bar closed) but venue close at 5 am.
It's late enough, keeps nightlife making money, the government is happy as making tax so win for the tourists, win for the staff and a win for the government.
Stuben- The whole entertainment industry should be closed completely. It doesn't make sense to use the mask and obey other Covid regulations everywhere and in the evening the people sit without a mask close to others with perhaps a lot of alcohol in their body. And because of the alcohol and the noise, the people are shouting and therefore spitting a little bit. Perfect conditions for Covid.
It is sad that the owners of the entertainment venues don't want to care about Covid and don't think about how many people have died around the world. Some don't even care about closing times. Other people and businesses care and do a lot to fight against Covid.
KK- Personally, I think bars themselves should decide as to their closing times.
It is their business to make that call and decide to stay open or close depending on demand.
However, there is a duty of care that should be enforced by the owners of the businesses.
Pattaya is a unique well-known place for its bars and long may it continue.
Richard- The way it was before these early closures seem to be for face-saving reasons and don't have any medical or practical merit.
Zimmerli- 10 pm sharp
Brian T- 7 AM till 1 AM with standard license. Can pay for an elite license permitting 24 hours… Cost of elite license 1,000,000 Baht. Caught violating times if you have a standard license… Mandatory 2,000, 000 baht and suspended operation for 6 months.
Rami C- They should not be open at all, it's ridiculous, all it takes is one infected person and the virus will spread again and more lockdowns, it is just not the right time for pleasure and mongering, health and safety comes first.
Malcolm T– bars and clubs should be allowed to open when they want. Let market forces, not armed forces dictate the hours
Melkor- They should be either open or closed covid does not have a higher infection rate at set times, it does not become more virulent after 11 pm
David R- Just go back to how it was before. If something happens, close again, otherwise, let businesses run again with a shred of profit.
Joe L- Until the last customer leaves
Shannon- This is a no-win question. If the Government says 2 am and after a month there is no real increase in income, the next argument from bar owners will be to open the borders without ASQ so all our customers can return. If that happened and the customers were not coming it will be exactly the same dying industry it was pre-Covid. They have soon forgotten the 2 years here before Covid. The industry is dying out. Millennials don't eat Pork Pies, Pasties, Sunday Roasts, or Sausage Rolls sitting around dated 1970's/80's style British pubs. The smart ones have seen the writing on the wall and are rushing to open Instavenues. Places younger people go to take pics for their Instagram. The others just bury their heads in the sand and blame others for their business collapse.
Alex M- They should not close. They should be 24 hours. this is a city built on tourism, the nightlife is the attraction.
That is it for this week. Our new talkback will be posted soon! Stay tuned!