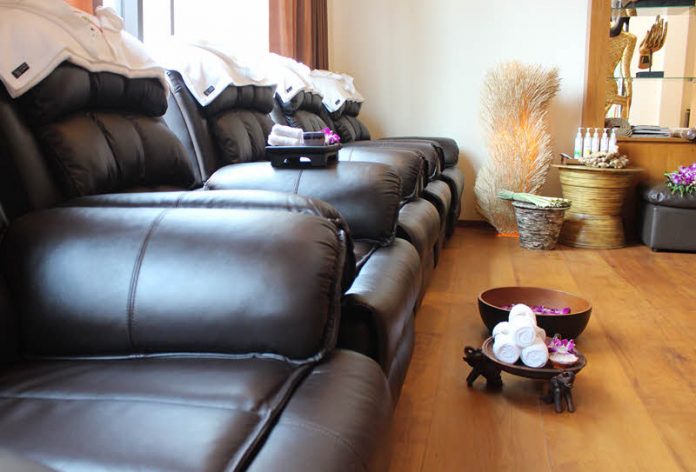 Chonburi-
Following multiple protests by massage workers at government buildings in Chonburi and a nearly month-long closure, the Chonburi governor gave the OK today around Noon to open massage shops, along with some other venues, effective immediately in the province.
You can read more about the prior protests here.
Chonburi closed the venues, along with many other businesses, effective from the end of December of last year following a large number of Covid-19 cases in the province stemming from primarily illegal gambling and a brewery in Si Racha.
However, the province has recovered and there have been zero cases of Covid-19 in the past six days and only one in the last ten days as of today. That one case was a migrant worker whose contacts all tested negative. Active testing and tracing have been taking place in the province for the past several weeks with no signs of widespread infection.
The original plan for the province seemed to be to wait for an announced meeting by the Center for Covid-19 Situation Administration (CCSA) that is set for this Friday, January 29th, to loosen restrictions or measures. However, it appears the cry for help from massage workers, in particular, caused some of the restrictions to be lifted earlier. It is expected for those who feel left out that more restrictions and rules will be lifted this weekend. The Pattaya News will give full coverage of the CCSA meeting Friday as it concludes.
Chonburi has also been drafted to become a "regulated" orange zone instead of a highly-controlled zone, once again allowing tourists to visit the province without needing permission from a district official. This "should" become official on Friday as well, pending final approval from the CCSA.
The exact venues opened, and the statute lifted for the opening is as follows:
2.10. Effective immediately (can open today) massage shops, beauty clinics, tattoo parlors, health spas can open. This does not include gyms, soapies, saunas, pools, or fitness centers at this time.
Covid-19 protection measures will need to be in place for the venues like temperature checks, Thai Cha-na check-in, hand sanitizer, and social distancing.
The order in Thai can be found below.