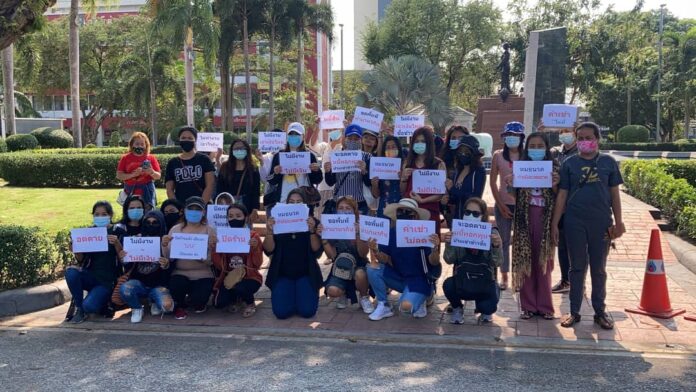 Pattaya, Thailand-
Following a similar protest at Chonburi City Hall in Mueang Chonburi yesterday morning a group of Pattaya massage workers got together to call for the reopening of massage shops and spas in Pattaya last evening near sunset at the Banglamung District Office.
The group of about fifty protesters, who called themselves the Pattaya Health Massage group, were peaceful and also presented a letter signed by sixty prominent massage shops, spas, and gyms in Pattaya asking for them to be reopened to the Banglamung District Sheriff, Amnat Charoensri.
Massage shops have been closed in Banglamung since December 30th, 2020 after increasing cases of Covid-19 led officials to close the venues out of precaution. However, as of this morning, the province has had zero cases of Covid-19 in five days and Banglamung has gone roughly ten days without a single new case detected despite widespread testing.
The protesters stated that provinces and places with more cases, like Bangkok, have reopened massage shops but they remained closed in Chonburi and they wanted the chance to get back to work. They also pointed out that no massage shops or fitness venues had appeared on any Covid19 timelines in the area or been responsible for clusters or outbreaks of the virus.
Amnat Charoensri collected the petition and met the protesters personally. He stated that the province was considering easing of restrictions soon and asked the public for patience saying he knew people were desperate to get back to work and the government understood that.
It is expected that a meeting on potentially loosening restrictions and measures is to take place by the end of the month.