Pattaya, Banglamung, Chonburi-
The Chonburi Public Heath Office has issued an announcement to warn people who went to an alleged illegal gambling den behind 'Numchai' electronics in North Pattaya and other illegal gambling dens in Chonburi since December 1st to notify health authorities and monitor your health.
If anyone has problems with respiratory symptoms and/or a fever within 14 days from when they had visited the establishments they must go to a hospital, according to the Chonburi Public Health Office.
Please inform the hospital that you visited the same place as a Covid-19 confirmed case, they continued.
This is possibly connected with the cluster of infections in Rayong. No additional cases have been announced in Chonburi at this time.
They have reassured the public they are only concerned with Covid-19 and no charges or issues will arise from being at the establishment. They have urged people to come forward and continue to state no charges will be filed regarding gambling.
The Governor of Rayong, Charnna Iamsaeng announced today, December 26th, 27 new cases of Covid-19 in the province, most linked to an illegal gambling den which was, according to the Governor, making case finding and tracing difficult.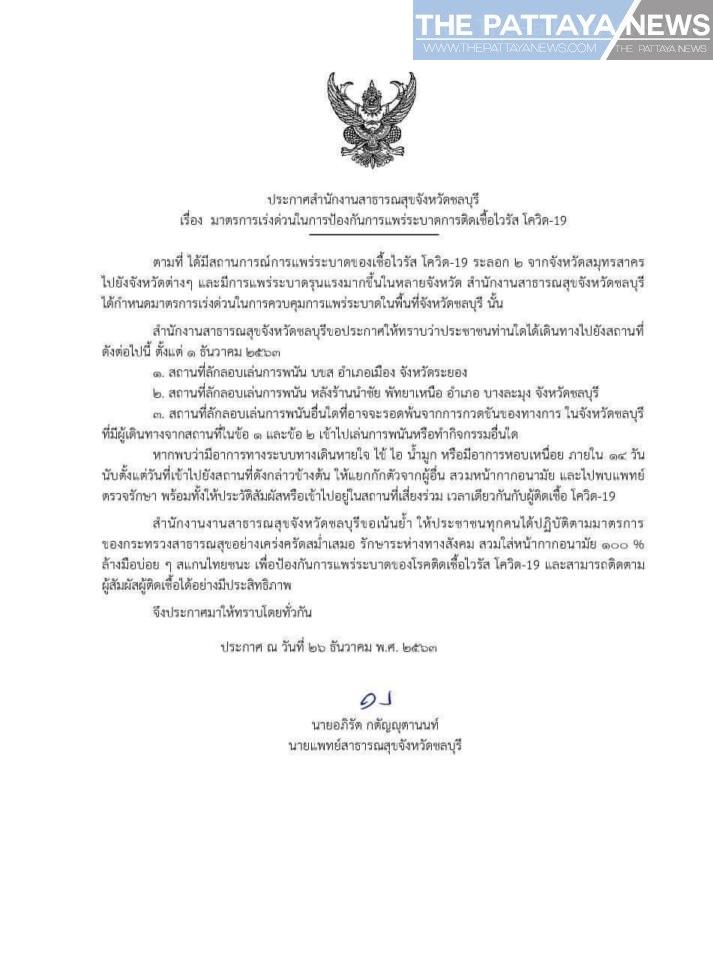 Read more about our previous story below.
Rayong now has total of 36 Covid19 cases, most linked to illegal gambling den, Mueang Rayong becomes highly controlled zone