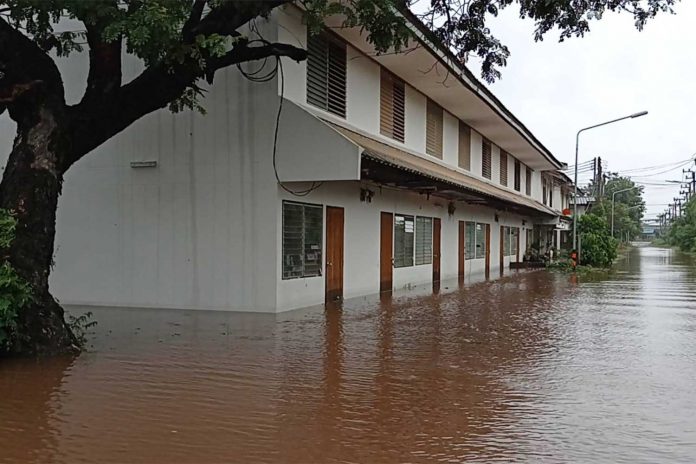 Nakorn Ratchasima –
More than 400 houses, schools, and government offices in 31 villages in Nakorn Ratchasima were swamped after flash floods and heavy rains triggered by typhoon Molave have battered the country earlier this week.
Phimai district chief Amnuay Pongnaan told reporters yesterday, October 29, that the steady rain had swollen the Moon River and had burst the river banks in Phimai district, resulting in heavy flooding in all 12 sub-districts.
He told the press: "Floodwater was reaching over 50 centimeters deep and had inundated a total of 437 houses and 3,562 rai of farm fields in the district. All village roads were also terribly flooded and cut off."
About 40 rooms at the local police apartments were damaged as the water level had overflown the area despite police placing sandbags before the flood water eventually poured into their rooms.
Phimai authorities and police officers have installed sandbags and water pumps to drain out the high level of floodwaters in the swamped area. They are also working with local volunteers to distribute drinking water and supplies to affected households.
The situation is slightly recovering in some sub-districts and will return to normal soon. No deaths and injuries are yet reported, according to the district chief.
Meanwhile, isolated heavy rain brought by the category 5 typhoon had caused floods in 64 provinces in Thailand, particularly in the Northeast and the South. Approximately 88,340 households nationwide were damaged while 5 people were killed, 3 were injured, and 1 was lost during the natural disaster.Photo Courtesy: Thairath, Bangkokpost