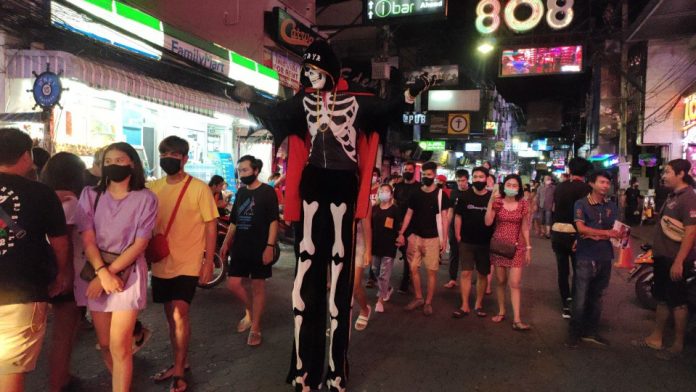 Pattaya-
Giving at least some local business and hotel owners a welcome reprieve, Pattaya was bustling Saturday night as thousands of domestic Thai tourists spent the weekend in Pattaya.
The current four day holiday weekend runs through Monday, September 7. The two extra holidays are "make-up" days from the cancelled Songkran water festival in April.
Pattaya has been struggling with a lack of international foreign tourists due to the Covid-19 pandemic. Borders remain closed to general tourists and tourist driven Pattaya on most days has been, according to many local residents, very quiet.
As we posted yesterday many business owners have warned that if a solution is not found to allow in foreign tourists soon many businesses face permanent closure. You can read more about that here.
https://thepattayanews.com/2020/09/05/leading-walking-street-business-owners-warn-of-total-collapse-of-tourism-industry-in-pattaya-if-thailand-has-no-foreign-tourists-for-another-3-6-months/
However, at least for one weekend, the city felt more lively and some business venues, notably seafood restaurants like Nang Nual, Thai live music venues like Stones House and nightclubs like 808 and Panda were doing brisk business. Pattaya Beach saw many people relaxing and socializing, a sight missing for some time. Several local hotels reported one hundred percent occupancy rates over the weekend.
Come Tuesday, however, business owners will likely once again face the reality of a tourist town without foreign tourists. Business owners have asked for more weekend events, festivals and special promotions to drive domestic traffic from Bangkok and other areas to Pattaya, as with this weekend.