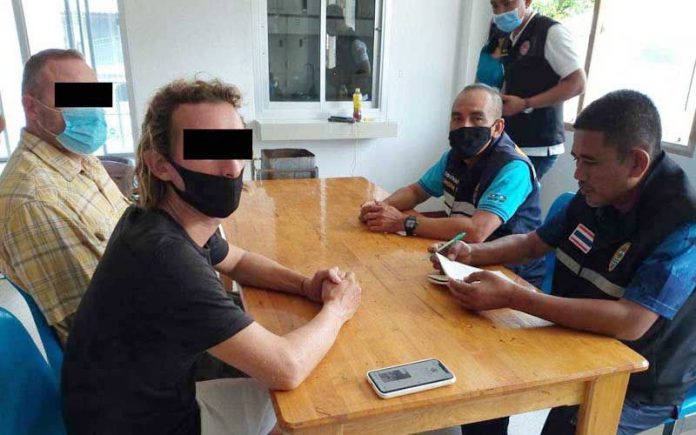 Koh Phangan-
Royal Thai Immigration in Surat Thani confirmed this morning to the Thai media that they will be revoking the permission to stay for two long-stay foreigners living on Koh Phangan following allegations of the two handling sea creatures in what has been described as an environmental protection zone off of Salad Beach on Koh Phangan.
The two men, who have been described by Royal Thai Police as long-stay residents of the island, with one working as a dive instructor, were named as Italian national Francesco Simonetti and his Hungarian Attila Ott.
Pol. Pakpong Saibol, Deputy Director of the Royal Thai Army and acting as a spokesman for the Immigration Bureau, confirmed the two will have their Visa to stay in Thailand revoked and will be deported, calling it "an expensive lesson."
The statute being used is Section 12 (7) of the Immigration Act, B.E. Immigration 2522, which essentially states that people with harmful or damaging prohibited characteristics can be removed from the country, according to Pakpong.  The actual charge in the case against them is the following: "Any operation on a reef that may harm or affect sea turtles, ornamental fish, or cause scallops, corals, reef or other sea life harm, destroyed or damaged "according to the case number 637/2563, No. 1 at 4:30 p.m. on September 1, 2020.
 Deputy Commander Major General Suparuek Pankosol, of Surat Thani Immigration, said the two men offended the Thai people of Surat Thani who "love animals, nature and marine resources."  He also said Thai citizens were encouraged to call Immigration at 1178 if they see someone breaking the law or harming sea life.
Reaction to the arrest on social media has been mixed, The Pattaya News notes. Thai social media has been nearly universal in agreement that the two men should be deported, however, foreign social media has brought up the fact that the animals handled were allegedly not endangered or that the men, one of who is reportedly married with family and both long time residents, should instead pay fines, conduct community service or other crimes but not be ripped away from their business and family.