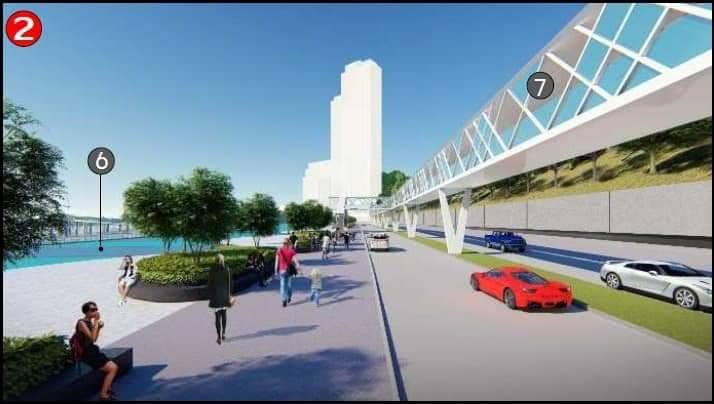 Pattaya-
This afternoon Pattaya City Hall had a presentation by a group hired as part of the Eastern Economic Corridor project to show two different (but similar) proposals to ultra modernize the area around Bali Hai Pier and Walking Street.
This is part of a project with a goal date of 2025 that includes expansions of the entire Eastern part of Thailand with Chonburi as a centerpiece. Portions of the project include plans for a cruise ship terminal, a skytrain (monorail) and to modernize and upgrade Walking Street. One proposal, which has come up several times over the years, shows a large recreation area that juts around Walking Street and into Pattaya Bay and connects Pattaya Beach with the Pier.
The following are just proposals and will be presented at Public Opinion town halls in the future, according to City Hall. Part of the proposal is to connect the monorail, or skytrain, with the local shopping malls and Walking Street with direct terminals in each area. The proposals stressed that Walking Street would stay a center of nightlife but also be a great daytime attraction as well.
Here is some of the former information on the monorail from mid last month.
Here is more information on the modernization of Walking Street and proposals.
Please remember all of these images are proposals. Images are courtesy of Pattaya Public Relations.