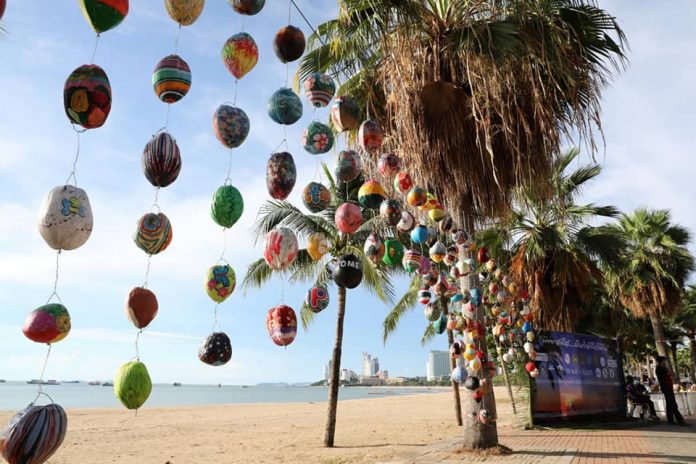 Pattaya-
Pattaya City, led by Mayor Sonthaya Khunpluem and multiple other officials launched the "Pattaya is brighter together" campaign this evening which is designed to encourage and inspire residents and tourists in the month of June as the city aims to return to a sense of normality and re-open attractions and businesses throughout the month.
Today at 5:30 PM on Pattaya Beach, Mr. Sonthaya Khunpluem, Pattaya City Mayor presided over the opening ceremony of the event "Pattaya is bright and Encouraging" with Mr. Ronnakit Ekasing, Deputy Mayor of Pattaya, Mr. Manaya Prakam, President of the Pattaya Cultural Council. Ekkasit Ngamphichet, President of Pattaya Business and Tourism Association and additional representatives from agencies in all sectors and the local Thai media, including The Pattaya News team.
The city has, according to Mayor Khunpluem, been through a significant challenge the past several months. Pattaya City, which normally welcomes millions of visitors every year and is known around the world for its nightlife, tourist attractions, hospitality sector and entertainment venues has been essentially completely shut down for approaching two and a half months, with mostly only businesses deemed essential, like supermarkets, open during most of that period. This was due to the potential spread of the Covid-19 Coronavirus.
Pattaya City, as of today, has gone roughly six weeks without a single new confirmed case of the virus spread locally.
The event, specifically designed to be on the night before the re-opening of the cities beaches and islands, as well as the Phase Three of Four scheduled Phases of easing of restrictions and loosening of rules on a national level, involved painting coconuts bought from local farmers and vendors to paint in an attempt to motivate the city and signify a brighter future.
The artistic displays will be placed throughout Pattaya and Jomtien Beach and have been painted and designed by multiple local organizations, law enforcement, residents and government agencies in Pattaya, all given the challenge to help add some life to the city and inspire people to look forward to a brighter future.
The Mayor and his entire team also took the time to paint their own coconuts as you can see below. The coconut displays will continue throughout the month of June.