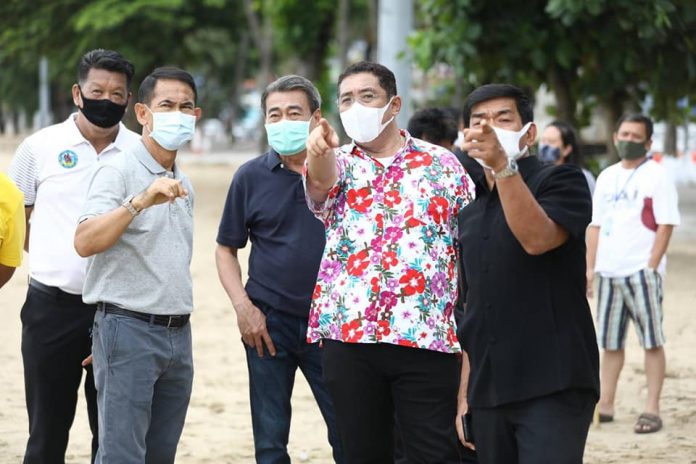 Pattaya City-
Pattaya City Mayor Sonthaya Khunpluem, along with his deputy mayors and other city hall officials visited Pattaya and Jomtien beaches this weekend to prepare for the much anticipated re-opening of the area beaches effective from tomorrow morning, Monday, June 1st, 2020.
We previously announced this when it was made public last week here.
The beaches scheduled for opening in the Pattaya area are: Pattaya Beach, Jomtien Beach, Phra Tamnak Beach, Cozy Beach, Wong Amat Beach, Krating Rai Beach, Lan Pho Naklua Public Park, Samak Beach and Bali Hai Pier.
Additionally, the Chonburi Communicable Disease Committee announced earlier today that all beaches in Chonburi could legally open effective tomorrow, including popular Bangsaen beach near Bangkok.
Beach closures are a provincial decision and some provinces across Thailand have decided not to re-open beaches to the public at this time. Beaches in Chonburi have been closed for about two months to help prevent gatherings that could have potentially spread the Covid-19 Coronavirus. The popular tourist island of Koh Larn is also re-opening tomorrow to visitors for the first time in months.
Mayor Khunpluem stated to the Pattaya News and associated press this weekend that several measures were being taken in the Covid-19 era to help prevent any spread of the virus, although noting that Pattaya had no recorded cases in over six weeks. Some of the changes and new measures are as follows:
-Rearrangement of beach chairs and tables to encourage social distancing, with about 40% less tables and chairs.
-Massage therapists on the beach must follow proper hygiene measures when performing massages and wear a mask.
-Alcohol is prohibited. This has always technically been the law, but was not enforced, but will be during the emergency decree period in which gatherings and parties are prohibited.
-Sunbathing, swimming, exercise and non competitive beach sports are welcome.
-Jet skis, Banana boats, parasailing and other beach activities may legally re-open
-Food and non alcoholic drinks are allowed and vendors may return to selling to beach patrons
-Parties, large gatherings, etc. especially around alcohol are not allowed.
-People must ensure they still socially distance from others not in their family or group.
The Mayor also stated that the swimming barriers will be placed properly in some areas and the many signs and barriers enacted telling people the beach was closed is expected to be removed overnight Sunday by city workers. He also encouraged locals and tourists to keep the beaches clean, noting they were in great condition after two months of no traffic and tourists. He added that law enforcement would still patrol on a regular basis to make sure people were following rules on social distancing, no alcohol and not having parties.