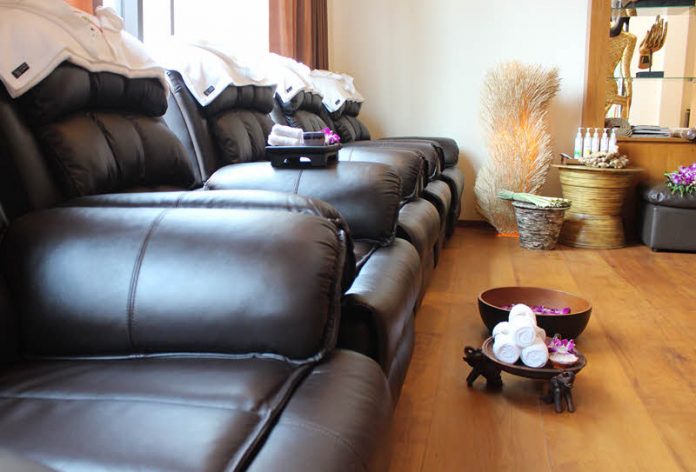 Bangkok-
The Center for Covid-19 Situation Center, or CCSA, along with the Thai National Security Council, announced the third of four scheduled phases to take place effective from Monday, June 1st, in loosening rules and relaxing restrictions put in place originally to help control the Covid-19 Coronavirus.
The Pattaya News notes that individual provincial governors can choose to strengthen, but not loosen, the standards and rules announced. This means that some individual provinces may still choose to keep some activities closed depending on their respective situations. The Chonburi Government will release their orders, which so far have corresponded exactly with the guideline's set by the CCSA in prior phases, likely later this weekend after a meeting by the Chonburi Communicable Disease Committee. The Pattaya News will provide a full update on this order when it is released.
The following items were presented at a press conference this afternoon and in material given to the associated Thai press later in the day. It is important to note that none of this is yet official until the final order is released in the Royal Gazette and, although spokesperson Dr. Taweesin Visanuyothin of the CCSA stated the list is final, it is still subject to change. Some of the items on the list and restrictions and rules around the items are not completely clear and should become so in the final order. If you own one of these businesses please call the city call center at 1337 for further information.
Here, current and correct as of press time, are the current easing of restrictions scheduled to take effect from Monday, June 1st:
-Some classrooms and workplaces in educational institutions can be utilized for short term examinations, however no teaching or learning at this time.
-Malls may now stay open until 9:00 PM instead of 8:00 PM
-Exhibition Centers and Convention Centers may open, but only for a limited area of no more than 20,000 square meters. They may be open until 9:00 PM. Social distancing standards and crowd control must be followed.
-Buddha amulet shops may open, but must observe social distancing.
-Beauty Salons, barbers, hairdressers may dye and perm hair and provide more complex services but none may extend past a two hour time window. Patrons waiting for services cannot wait inside of the shop.
-Temples and Temple services (like the above mentioned amulet shops) are allowed but no mass gatherings and social distancing must be properly obeyed.
-Day care centers may open but are limited to only two hours. Learning centers, like preschool, for young children may open however multiple rules and regulations apply. This appears to be primarily for staff and allocation of lunches to the needy and children in local villages. More information on this should be in the final order when released.
-Beauty, Health and skin clinics may open, but some special rules and regulations apply, please check with the clinic.
-Tattoo/Piercings shops can open, although facial tattoos or piercings cannot be done.
-Massage establishments can open, along with spa and health establishments. No parlor, herbal or steam massage or bathing style businesses can open (such as soapies). The Chonburi government said they would be releasing a detailed order around this later this weekend from the Provincial authorities. Facial massages are off limits at this time. Traditional health massages are allowed. Foot massages are allowed.
-Fitness and exercise venues may open, including fitness centers. No sauna or steam room to be used. Sports fields can also open for football, basketball, volleyball but no competitions or crowds. No more than 10 participants, not including the players. The initial information did not specifically go into depth about equipment, martial arts or classes this may be in the final order.
-Bowling alleys and skating rinks may open. No competition, classes or organized team sports.
-Dance institutes like ballroom dancing and dance education can open.
-Water activities like jetskis, windsurfing, banana boats, etc. can open
-Movie theaters and performing art theaters in general can open, however, no more than 200 people and no music or concerts. No eating or drinking during the movie and customers must be spaced apart.
-Zoos and animal related parks and attractions can open, with rules on social distancing and number of groups. No shows allowed that attract crowds at this time.
As noted above, Chonburi is expected to release a province specific order later this weekend which will clarify some of the items above as well as make these items official. All items need the final approval of the Chonburi Communicable Disease Committee. We suggest anyone who has questions or concerns to call the Pattaya City 24 hour contact center in English or Thai at 1337.
Additionally, there were announcements on the National Curfew today and a potential announcement on opening beaches, that also still needs final approval from the Chonburi Communicable Disease Committee.
Bars, Nightclubs, etc remain closed at least until Phase four, which based on the Covid-19 situation over the next two weeks would likely take place or or around June 15th. The CCSA also responded to a question from the press about alcohol in restaurants and stated that sales of alcohol will still be prohibited for dine in at this time, likely until bars and pubs are allowed to re-open.
This is a developing story and changes and updates may be made as information is released.