Pattaya-

Heavy rains hit Pattaya, Thailand yesterday afternoon with reports of sporadic flooding throughout the city.
Flooding was reported on Sukhimwit Road in South Pattaya, roads along the railway heading towards Pong and the greater Banglamung area, Pattaya Beach Road, Pattaya Third Road and Naklua.
A video of the rainstorms can be found here:
Water levels on road surfaces varied, however, small vehicles and motorbikes had difficulty moving and several vehicles had to be given assistance with the support of local authorities.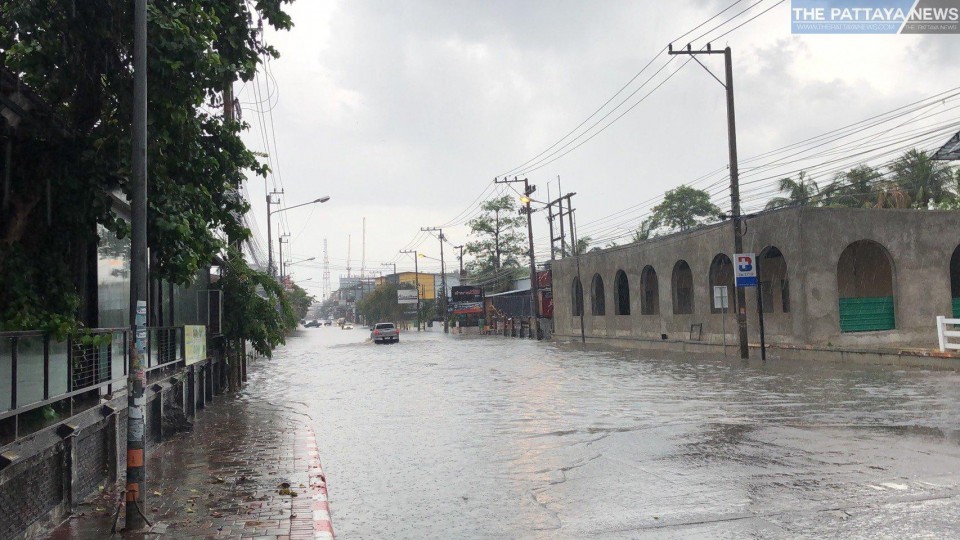 Traffic delays were substantial and traffic police were sent to multiple areas to brave the storms and help direct traffic.
The Thai Meteorological Department has stated further potential thunder storms are in the forecast for this week, bringing much needed rain to the Chonburi province after a significant drought.
Complaints arose on social media around the flooding, alleging that the significant level of drainage projects being implemented around Pattaya were not working. Pattaya City Officials disagreed with these comments, informing The Pattaya News that a large amount of work remained to be completed around the drainage systems and installation of pipes and had been delayed by the Covid19 Coronavirus.
Construction workers have been given permission to return to road work projects this week by Pattaya City officials after nearly a month of being on hiatus due to the Covid19 Coronavirus.