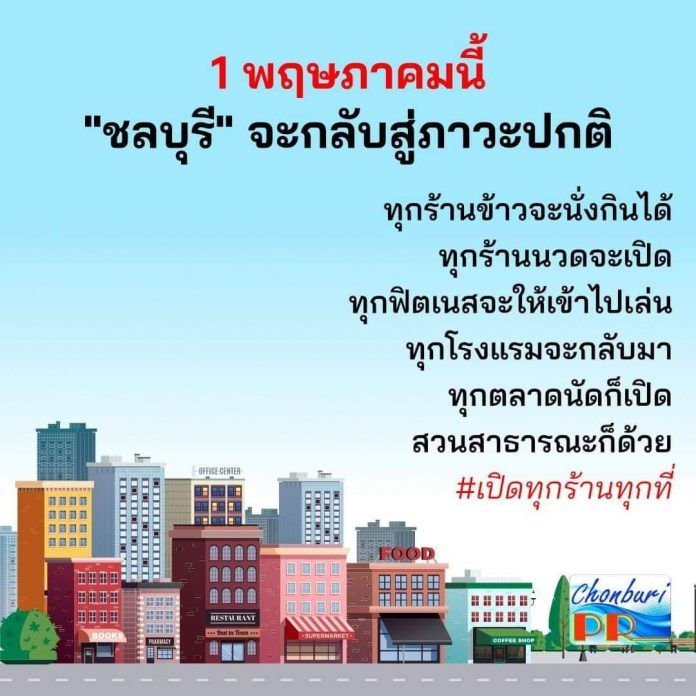 Chonburi-
As we first mentioned last night a new order was issued from the Chonburi Governor that addressed consolidating all previous orders to end as of April 30, along with reopening electronic and appliance stores immediately.
That can be found here:
https://thepattayanews.com/2020/04/14/chonburi-governor-releases-new-order-opening-home-electronic-and-appliance-stores-provides-possible-glimpse-of-future/
This statement led to a lot of questions from people on social media if this truly meant businesses could start to reopen on May 1.
As confirmed by a statement from Chonburi PR this morning, that is exactly what the order means. Businesses will reopen as of May 1st, 2020, if the situation does not worsen.
They stated that if the situation with Covid-19 continues to improve and does not worsen the current plan is to reopen businesses and get the tens of thousands…an estimated 80 to 90 percent of the city…back to work.
This comes as lines at local food charities stretch into the hundreds, even over a thousand at some and the homeless problem is visibly increasing in the area.
The Pattaya News recently conducted a poll in which 73 percent, an overwhelming majority, supported reopening businesseses and getting people an income once more.
The Pattaya News notes it will likely be months until international travel returns, however, opening on at least a local scale is a first step to take to get many people back on their feet.
This order, of course, is subject to change based on the overall emergency decree in place and the overall Covid-19 situation in Thailand, however other provinces like Udon and Phuket have also stated in the past 24 hours they are also looking at May first as a reopening date.
Source:
https://www.facebook.com/483540001709826/posts/3088621144535019/