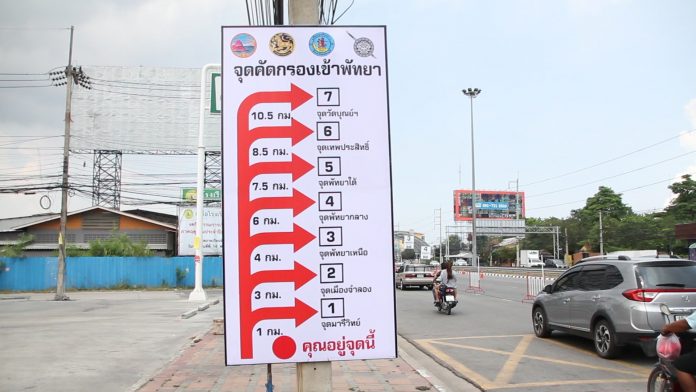 Pattaya-
Update: As of 5:30 PM today the dry run will start at 6:00 AM tomorrow and run for the entire day tomorrow.
As we have been reporting on throughout the week Pattaya City will still be closing down the core area of Pattaya and implementing restrictions on entry starting with a "dry run" tomorrow afternoon and expected to start the actual closure on Thursday after 2:00 PM which will last three weeks or until the situation improves.
Here is a brief article with some details that we posted yesterday on this event, some that have slightly changed and are covered below:
Pattaya City Checkpoints and closure to start Wednesday, not Tuesday, in the afternoon
The dry run will begin tomorrow, Wednesday, April 15th at 3:00 PM and end around 6:00 PM. This will be followed by a meeting at 7:00 PM at City Hall to go over any potential problems and build solutions. This is expected to be followed by the implementation of the closure in full the following day, Thursday, April 16th, at or around 2:00 PM.
The purpose of the closure of the city is that the Ministry of Public Health and the Chonburi Department of Disease Control has identified Pattaya as a "Red Zone", or a high risk area likely to have infections of the Covid-19 Coronavirus. The Red Zone is essentially Central Pattaya, Naklua and Jomtien. Roughly one week ago various hotel associations of Pattaya gathered information on the total number of tourists, domestic and foreign, still in the city and discovered about 2,800 people remained. This is considered a "high risk" group as many recently arrived and will need further random screening and testing to determine overall risk.
The city has already begun proactive testing at the Grand Bella hotel in Pattaya, aiming to screen two hundred people a day who volunteer and are chosen from high risk groups. So far, none of those screened have tested positive as of press time.
Government officials believe that by restricting access to Pattaya the task of identifying and contact tracing those in high risk groups will become easier overall, as well as limiting potential exposure to the greater public.
As discussed in our previous article, Pattaya will have 8 checkpoints in total, as seen by this map. (Note, this map is subject to change based on fine tuning by Pattaya City Officials)
To pass the checkpoints and enter Pattaya City proper a Thai resident must have their Thai ID Card. It is suggested that this be blown up to an A-4 Size to make the process easier for both the resident and the officials, if possible.
A foreigner must have their original passport and any other documents that they deem relevant.
If a person is renting an apartment or house in Pattaya and needs entry they must have a copy of the ID card of their landlord, as well as a telephone number to reach them. This includes foreigners. They should also have a letter from the landlord confirming that the person named is a tenant.
Only those with essential business will be allowed to enter the city. If one is working they must fill out the following form in English and have a copy of their work permit available as well. Their employer should also be involved in this process. For those with a medical appointment, a confirmation of the appointment is enough. An English link is here for the work related entry certificate:
https://drive.google.com/file/d/1L66Ahbdpvp7riHYdZiMuOtg7KIlf6n8a/view?fbclid=IwAR2iUBQp2zaR1SCCLAhEVKCNSm7qy52wRj1V-rTyRapJGv3Zee-M_tMkoKY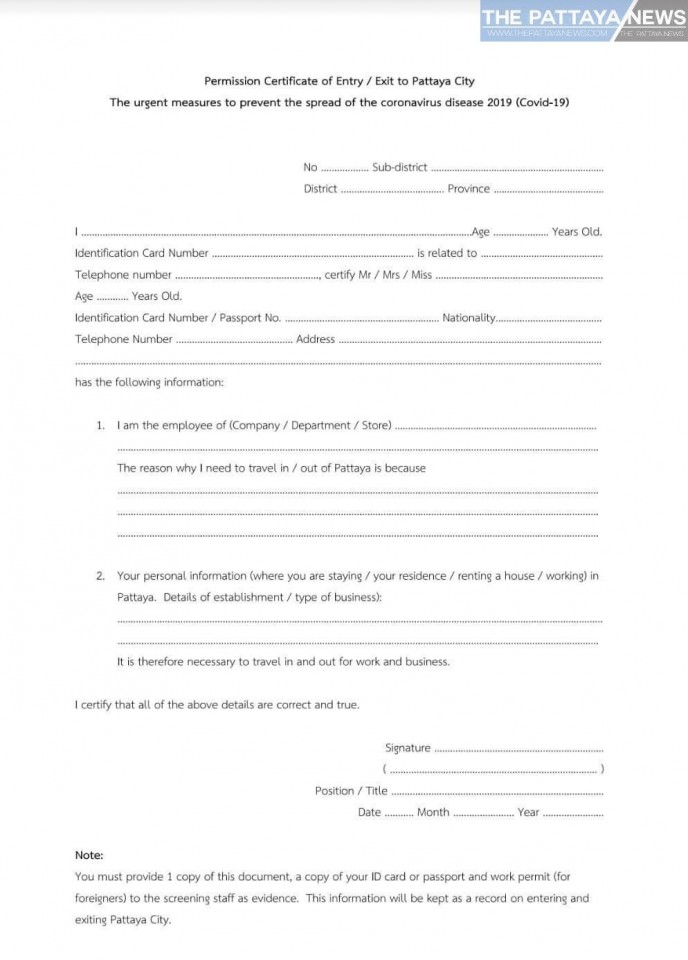 There will be several lanes at each checkpoint, one designed for fast access for those with approved paperwork, one for delivery drivers, specifically food delivery motorbike drivers, one for those who only wish to continue down the highway and not enter Pattaya proper and one for detailed examination for those who wish to enter the city.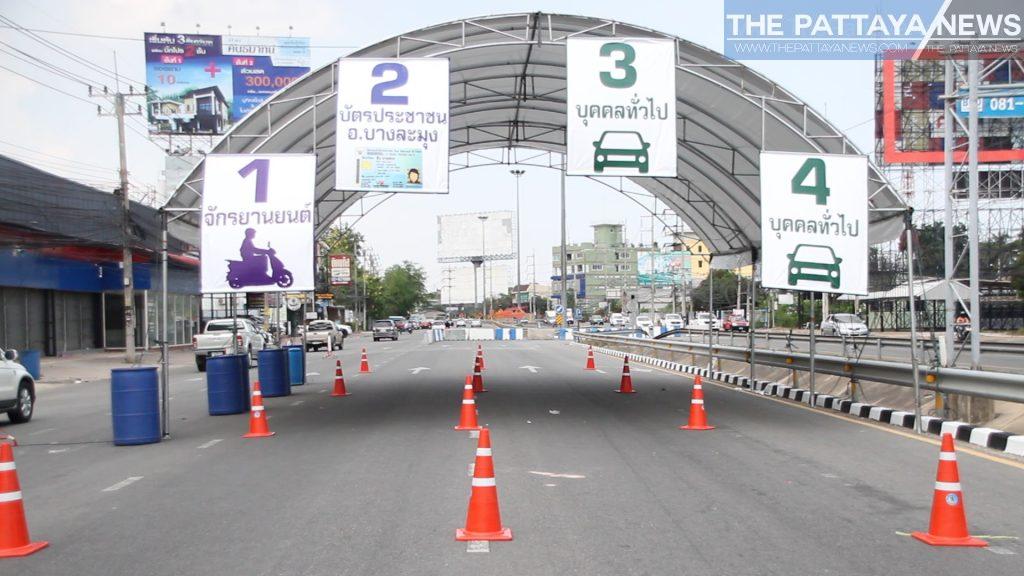 It is still expected that there may be traffic delays and residents are urged that unless your trip is critically essential to avoid entering Pattaya City during the period of closure and stay home.
This information is subject to change, as it is still being fine tuned by the city, especially after tomorrow afternoon's test run.