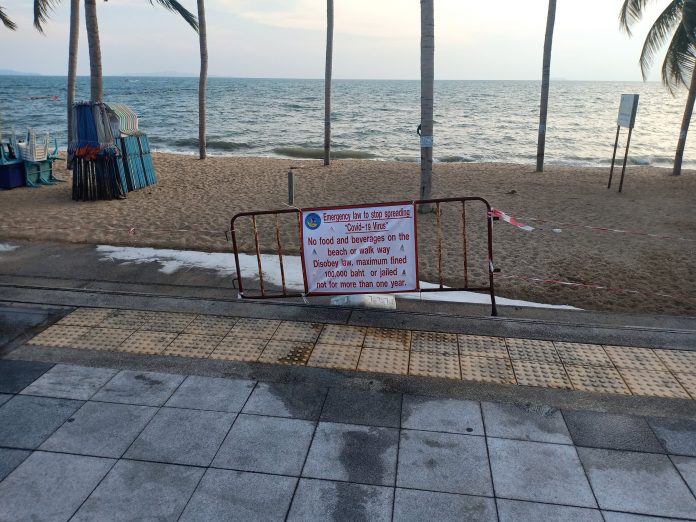 Pattaya-
In the past week The Pattaya News has reported several times on stricter enforcement along various Pattaya Beaches, designed to stop gatherings of people who, despite an order from the Chonburi Governor to close all beaches, continue to swim and gather on the beaches.
The stricter enforcement has included many signs being placed warning of draconian enforcement under the Emergency Decree currently in place to stop Covid-19…which could mean several years in jail or fines of up to 100,000 baht (About three grand US dollars.). These signs also mention that any drinking or eating is forbidden, as well as all activities on the beach, including swimming. The original draft of the Governor's order gave an exception for swimming, however, the final order removed the exception.
Stricter and stricter measures have taken place across Chonburi designed to stop people gathering, including the banning of alcohol sales, drinking in public and the transportation of alcohol. Socializing even in gatherings as small as two or three people over drinks is now against the emergency decree in Thailand.
Law Enforcement drones have been seen flying over local beaches announcing the closures in English and warning people of the harsh fines and to go home.
Most residents and readers of The Pattaya News seem to agree with the basic concept of the measures, prohibit groups of people from gathering, sitting and drinking and socializing. However, many residents are now concerned that the measures are going from encouraging social distancing to overly draconian and heavy handed.
Messages sent to the Pattaya News, as well as numerous comments on social media, have complained of people cycling, jogging, running or walking completely alone, in some cases dozens of feet away or more from anyone, stopped by police (itself a social distancing violation) and ordered to go home and get off the sidewalks. This is not during the National Curfew hours, which is 10:00 PM to 4:00 AM.
Officially, there is no rule against walking around outside for exercise or against going outside. Many residents as well as physical fitness experts have stated online the importance of fitness, fresh air and exercising, especially during times like this and reinforced how easy it is to socially distance while going out for exercise.
Officially, the beach sidewalks, however, are considered part of the Beach and public land and is, technically, off limits which is why police are moving people even walking off the sidewalks. However, in many cases, this is simply moving them to more crowded sidewalks across the street or wandering around on regular city streets for exercise.
This afternoon multiple police vehicles, drones and foot patrols were seen moving people, even those completely alone and exercising, off of the Beach walkways. In most cases, people simply crossed the street, which according to critics raises further risk of less social distancing.
It is very clear that the message Pattaya City wants to send is STAY home at this time, however, for many people who value fitness and health, this simply isn't an option for them and they hope that officials recognize the difference between social distancing and self isolation or quarantine.