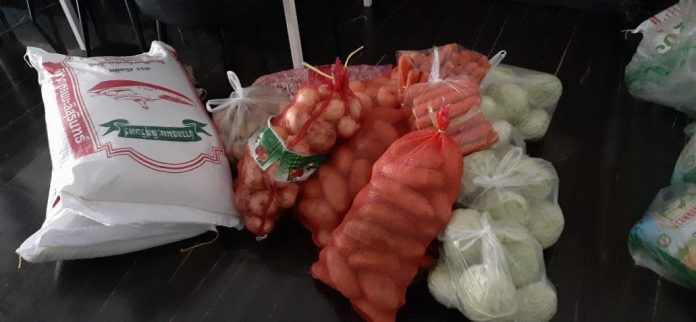 Pattaya-
We first posted yesterday in English and in Thai that a group of local businessmen and residents have been feeding Pattaya locals who are in need at the Jannat Restaurant in Pattaya, located on Second Road near Soi VC and Walking Street, since near the start of the Covid-19 Coronavirus crisis for charity reasons.
They are providing lunch and dinner twice a day and are now averaging feeding over 800 people a day who have limited to no funds or employment due to the Covid-19 crisis which has left most of Pattaya City out of work. The people behind the effort don't want to be named, as they are doing this for the community, not for recognition.
We posted the following article here:
Local residents provide 600-800 free meals twice a day in Pattaya, every day, during Covid-19 Crisis…but need your help too
The organizers of the free lunch and dinner sent us a message to inform our readers of two things:
1. Dinner time is changed to 7:00 PM.  This is to ensure people have time to get home before the current curfew.
2. A HUGE thank you to the readers of Pattaya News. Many people came by yesterday and offered to help with donations of supplies to help keeping feeding the needy in the Pattaya area. Additionally, many readers, primarily from our Thai website and social media, which has over 340,000 likes and followers, came out to eat if they were suffering financial hardship.  The organizers wanted to thank those who gave their support and have pledged to keep feeding Pattaya until people can get back to work.
The Pattaya News is not affiliated with this group or behind the drive, but wanted to thank our readers for coming together and helping out during a difficult time. Here are some photos of yesterday's donations, provided by the Jannat restaurant team.