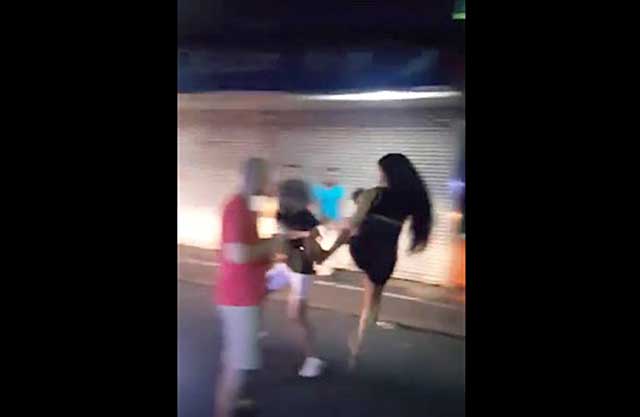 Pattaya-
In the early hours of Wednesday morning, March 21st, a group of Ladyboys were caught on camera attacking a tattooed and intoxicated foreigner.
They engaged in a running street battle as more Ladyboys emerged to attack the foreigner as well. A witness stated that the man was being rude and aggressive to the Ladyboys when they approached him and had started the incident by telling them to "Fuck off" and shoving them away. This resulted in the ladyboy and her friends attacking the man, including one with an excellent flying kick seen in the video and a broom.
In this second clip, the man took his shirt off and proceeded to chase back after the Ladyboys in what appears to be a drunken rage challenging them and their friends to a fist fight as the Ladyboys went to get more support. He was also injured and bleeding from his head from reportedly being hit by high heels from other Ladyboys.
The police have not issued a statement on the incident and it is believed both parties escaped without major harm or arrest.
(Editors Note/Opinion: If you are coming here on holiday it is a simple fact that you WILL be approached and greeted and touched by Ladyboys. Simply be polite, say no thank you, smile and walk away. Being aggressive, insulting and rude will only result in this situation and this man is very lucky he avoided major real harm.)